As the New Year sets in, it heralds a time of new possibilities, new hope, new expectations and new experiences. At Snehadhara we welcome all these for our community- our children, parents and ourselves as well as the larger community beyond the walls of the centre.
In our endeavour to focus on understanding the role of creative arts in all its myriad forms we would like to enrol parents into the fold through creating parent forums not just with Snehadhara parents but also through co-location with other organisations and building a community together. We hope to bring together groups of parents who converge on the spirit of learning and art.
We would like to start this year with an opportunity for all parents to explore the 'cave within' through a two day workshop facilitated by Vikramjeet Sinha, Founder of BOAT .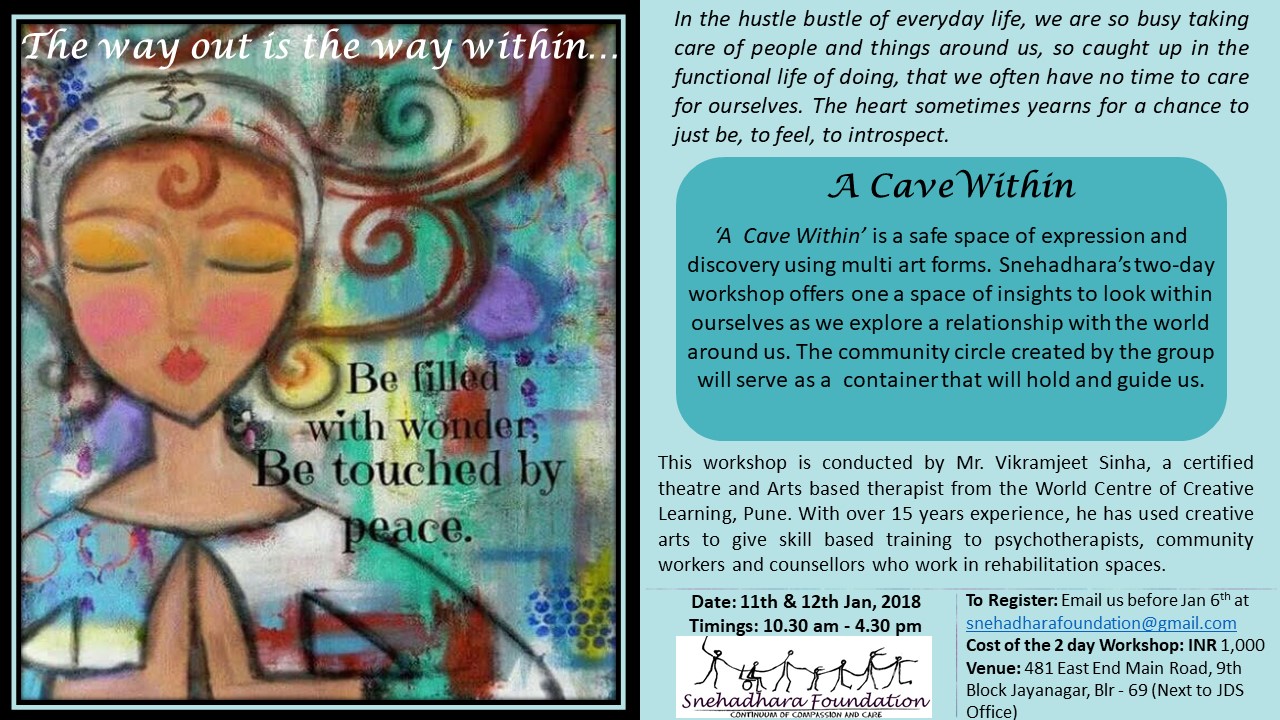 One of our collaborations this year has been with BOAT, a registered trust based in Delhi (2013) built on the concept of art as a tool and a process for healing and capacity building. The idea behind BOAT, Building on Art Therapy, is building capacity among caregivers, teachers, and staff to work with a variety of creative arts in the context of conflict work with children and youth; and also directly work with children and youth using the creative arts as a process to allow the children to self- express. However the idea is not to be so methodology centric but the idea of "building" that is to build a view among various communities, a framework of looking at how suffering can be engaged with by having the right understanding, the right view.
'A Cave Within' is a safe space of expression and discovery using multi art forms. Snehadhara's two-day workshop offers one a space of insights to look within ourselves as we explore a relationship with the world around us. The community circle created by the group will serve as a container that will hold and guide us. Let us gift ourselves a New Year filled with explorations of the self, the 'spirit within'.