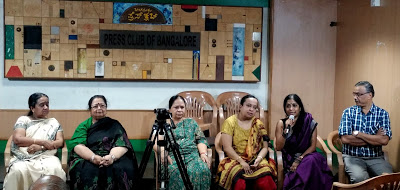 At a press conference today at Press club , Bangalore titled 'From partially opened doors to fully opened doors-A major proactive step from CBSE, HRD Ministry, India'. The panel had Mrs Krishnaswamy, Spastics Society, Karnataka, Dr. Indumati Rao, CBR Network, Mr. Basavaraj, APD, Bangalore,Dr. Sangeeta, SSMRV College and Gitanjali Sarangan, Snehadhara Foundation
.
The appeal from all present was to create massive awareness in public about the two CBSE orders which is a positive
 step towards inclusion and what to expect from the school and the parent in this process.
As a first step towards implementing this order we at
Snehadhara Foundation
are conducting a baseline survey to document the present status of inclusive education in Bangalore. Towards this, we have written in to the 215 schools in Bangalore .
My urge to each one of you reading this post, each parent whose children are in CBSE schools is to help us with collecting data and populating it on this platform.
In addition, Snehadhara will work with schools to chart a road map for inclusion of all children in mainstream schools.
We need many of you to walk this with us. So here is an invitation to those of you in the space of education, to special educators, to rehab therapists, to students studying psychology, social work to join us in doing this together. Here is a chance for all of us to give children with special needs an even playing field. There is something each one of us can do and need to do.
Source: SnehadharaBlog