Uhuru's curriculum design is geared towards enabling children to acquire the tools needed to navigate the daily practicalities of life while also preparing to deal with some of the larger questions that life asks every child and adult.
Our focus is on creating a space where compassion is an integral part of daily living – with respect to the self and with others; resilience is built to deal with all that comes in the path; attention and observation skills are honed; emotions are acknowledged and negotiated; learning flows from connection with each other and an understanding of the larger interconnectedness of all and everything emerges naturally. The curriculum for this year titled 'Churning Learning 2020-2021'
At Snehadhara, learning is embodied for the children and their families through many experiences provided by a range of facilitators, ABT  and API practitioners , external faculty, visiting artists, peers, interns and volunteers.
Churning Learning 2020-2021: Intent
Churning Learning 2020-2021 will focus primarily on the shift into the community living format. Activities of Daily Living (ADL) will no more be a session but a way of life in the new Centre, as the inhabitants grow into a cohesive community and understand their restructured relationships from a family and social perspective. 
Independence in terms of thought, deed and expression is our aspiration and goal, while the children will be facilitated to function at ease in all given circumstances.
Me-myself time will be spread across the day to not just serenity in solitude but also to occupy oneself, meaningfully and productively. There will be an invitation to focus on developing hobbies and getting oneself involved in interactions and activities "at (the new) home," based on individual interest.
A sneak preview into the Curriculum of 2020-2021
These will be early morning sessions – right at the beginning of the day, in the beautiful new campus. The children will explore the surroundings using different senses. In these sessions, the children will make contact with the new campus, using different senses. This might include walking barefoot, exploring various sounds, textures and fragrances in the rich natural context.
Saaz - Sounds and Instruments
The objectives of these sessions are to take the children into a world of sounds and music. In these sessions, they would be exposed to a variety of musical instruments and day to day objects which produce a variety of sounds. They will explore wind instruments like the harmonica and flute, string instruments like ukulele and bulbul tarang, percussion instruments like drums and cajon, and several other instruments like the keyboard, xylophone etc.
Embodying kinaesthetic awareness though movement, music and play is what these sessions will be about. They look at integrating some conventional, some structured, some experimental, some fun, some playful and some improvisational movements, allowing us to dig into the unknown. The child will be facilitated to discover something new within themselves in this fascinating physical space of expression. The Thakadimitha sessions will be full of experiments with rhythm, footwork and so on!
Kuthoohalam - Sensory Integration
The campus offers a beautiful opportunity to be more curious about what our senses are picking up from the environment around us. In these sessions will be on working with three basic sensory experiences – visual, auditory and tactile. We will be looking at different areas under each of these senses. Movement, colour and light around us will be examined under visual; the effect of volume, pitch and rhythm will be explored under auditory; different textures, movement, wet vs dry surface exposure will be delved into, under tactile.
The group will be divided into two sub-groups for language acquisition. Level 1 will be about vocalization, basic vocabulary and Simple Sentences. Level 2 will be about descriptive speech and Story Construction.
At our pottery shed in the campus, we will get a chance to play and squeeze, pat and pound, poke and pinch clay. We will learn creatively to enhance our understanding of texture, shapes and forms by rolling, cutting and making multi-dimensional shapes. Whether we roll the clay to make a snake or thump it to make a cake, manipulating the clay will develop the fingers and hands muscles, improving hand and eye coordination along the way. The sessions will progress into the children working on the wheel in the second semester.
These sessions encompass the diversity and inclusion of the various art forms of India- styles of music, languages, dance forms, visual art, storytelling and so on. The dance element involves, learning different dance forms briefly, dressing up in dance costumes, watching videos and performances and likewise. The visual arts sessions will introduce the group to block printing, Bandhani, Kalamkari, rangoli making and so on.
Academic concepts will be tailored to suit individual needs and facilitate comprehension, composition and application aspects of language, maths and science concepts. The goal will be to develop reasoning skills, creative thinking, abstract or spatial thinking, critical thinking and problem solving. Basic math concepts that are required in our daily living will be our area of focus. Understanding the concepts of time, money, proportions, measurement and numerical skill, comprehension and basic environmental concepts along with health and hygiene will be a part of the curriculum.
Chidya Ud -
Bird Watching
With the help of educational aids – print material such as flashcards on common birds, a handy bird guide, posters for classroom display, we will observe interesting physical aspects of birds and their behaviour in these sessions. Being in the natural surroundings of the new campus, we will be looking for birds on trees and on the ground. We will listen to their sounds, observe their sizes and colours and notice what they eat. Through birds, we will work towards facilitating a deeper connection with Nature.
Taking advantage of the vast open spaces and crisp sunlight available to us at the campus we plan to get our hands dirty with the soil and reap what we sow. The activities will involve establishing gardening rules, clearing up and preparing the soil, creating pathways and beds and create our kitchen garden with ample love, water and nutrients.
These sessions will be about getting immersed in Nature by talking to trees and creatures in the environment, contributing to the growth of our natural surrounding and observing the secrets of nature silently and contemplatively. The goal will be to open spaces for the children to find themselves in Nature through observation and association with Nature.
The structure of the day at Snehadhara allows for the transitions that the children will be making through routines and locations. Any challenges of living and learning in different spaces separated by distances have been factored into the planning of the children's time.
Mondays and Tuesdays are spent at the new residential Centre with the children returning home on Tuesday night. On Wednesdays, children attend the ongoing Kala Avahita and Snehasangiti programmes while staying in the city. Wednesdays also see them participating in – 'Maitri – Building our social world together,' the collaborative programme we have with Ishanya, another Centre that works for children with special needs, towards inclusion. The children return to the Centre on Thursday morning to stay until Friday evening. This plan has been put in place to enable children to experience greater autonomy and space for growth while parents get more time for self-care, even while feeling secure about how their children spend the week.
Summer School
The Uhuru program opens its portals to each new year at Snehadhara with the Summer School program. Over the years though the program has evolved in form and content, it continues to retain its intent of providing children vivid experiences within and outside the centre that serve to enhance their goals of social interaction and independence.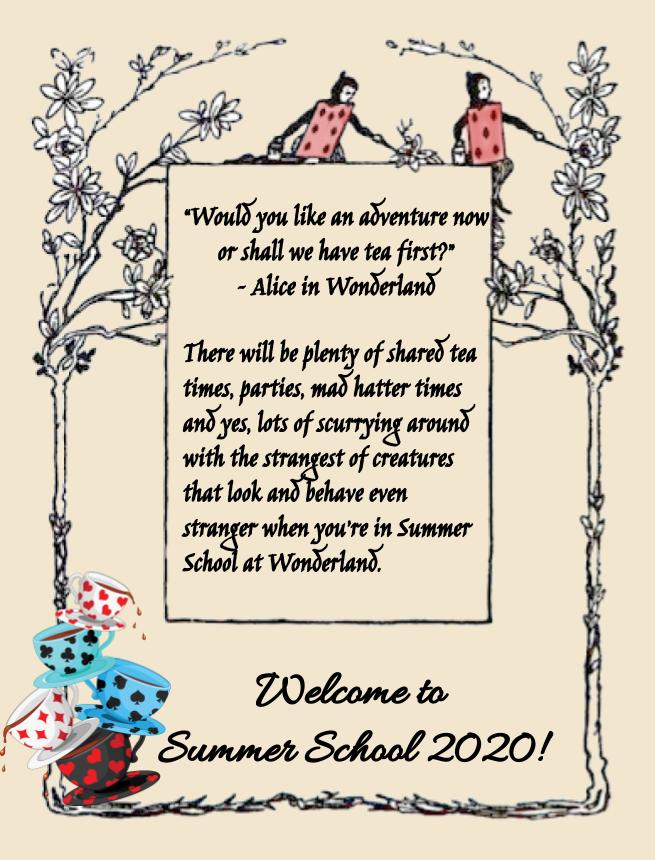 It was a hot, sleepy afternoon when Alice saw the White Rabbit scurrying by. She didn't find it remarkable until he pulled out a pocket-watch from his waistcoat and mumbled about being late. Now she simply had to follow him. And that is how Alice fell down the rabbit hole, got catapulted right into Wonderland and met some of the most interesting characters ever.
Wonderland or Nelamangala is where the all the Alices (children and adults, boys and girls, men and women and all alike and different) of Snehadhara will spend the oncoming summer. Waking up to a wonder-filled experience unlike anything known before is what Summer School 2020 is about. Themed 'Alice in Wonderland,' the Summer School is about new experiences, yes, but more than that about transitions. It is about getting comfortable in a setting away from the family, meeting (strange) new people and creatures, and all their individual and collective quirks. Summer School 2020 is about understanding and experiencing growing in all directions not only up and that too outside the home. And yet, about finding home within. It is about finding release from the stress of city traffic and waking up to the sound of silence in tree-lined avenues. It is about befriending monkeys and squirrels and caterpillars and also about chasing butterflies.
A new place demands new approaches and there may be many of those at Nelamangala. The idea of travel will take on a new dimension during the Summer School 2020. The first layer is about travelling away from home. There is travel from the city to the new Centre. Apart from that there is travel around the new campus – getting to know new plants and creatures and clouds and trees. There is travel to nearby landmarks and much exploration of the skills required in exploration and adjustment to completely new contexts. Most of all there will be travel well outside of the comfort zone of certainty.
In Wonderland, the same food will taste different and produce (possibly) better growth rates. This will be because this is Wonderland, of course, but also because the children and adults of Wonderland take on new routines in the brand new kitchen and dining area with experiences of cooking and cleaning and homemaking in a very new sense of the word.
When awake, many new dreams will be lived in reality by the students, facilitators and staff of Snehadhara Foundation. When asleep, they will hear the crickets weaving them newer dreams and feel the sprinkle of magic dust falling from the star spangled sky.
Our aspirations for Summer School 2019-2020 were to weave artistic endeavours in as many spaces, with as many people and through as many experiences as possible for our children-– delving into new crafts, exploring new territories, greedily lapping up experiences through our interactions with each other and the new people we meet, all leading to enormous learning and revelations of spirit.
The Summer School this year saw a lot more Artists at the Centre and also the children travelled within and outside the city. Themed 'People and Places,' this was a summer of travel and new friendships, brand new hobbies and colourful portfolios. New relationships opened up with skills previously unexplored, in places familiar and unfamiliar.
Every year we create new memories of what epitomises Summer Vacations. It has often been about visiting friends and relatives and making new friends in new places.
Summer School 2018-2019 presented Meil Milaap, as the focus of the month of April where we ventured out to each other's homes and other welcoming spaces to share our 'sunful' joy and partake of the generosity of our hosts. We devised a large canvas for ourselves to harness every possible ray of senses to touch and feel and explore; there was song and dance and paint, lots and lots of paint and colour as well as food in many hues, textures and tantalising tastes.
We believe what we learn outside the classroom is equally and a lot more important than what we learn inside. Each year our Summer School edition brings to children experiences where learning is fun and fun is learning. Dhoop Dhamal 2017 offered expeditions into the world of culinary delights, object theatre, dance and movement and wondrous weaves. It paved the way for a different experience in the culinary world for our children. They cooked together, they served together, they powered their creativity and gave a kick start to the cafe 'Obattoo'. The highlight of the summer school was the 3 day trip to Devaraya Samudra, an excursion that created learning opportunities beyond the confines of boundaries and opened up a world of beauty and warmth.
Summer School 2016- brought The Inside Out Summer Camp to the children. Along with Outlife, an outdoor adventure based organisation, a space was created where some children from Snehadhara spent 3 nights and 4 days with children from other schools at Gunina Farms. And new meaning was crafted for independence skills and inclusion. All children were able to bend their patterns, create new ones and forge diverse relationships.
The summer school 'Atota Lakmose' this year was a six week program that saw a heterogeneous group of children- the children at the center, their siblings and friends- experience art in its various forms. The children together enjoyed sessions in visual art, storytelling, puppetry, baking, gardening, pottery, dance and movement, and theatre. The various learnings from the summer school culminated with an hour long performance at 'Paradigm Shift Café'.
From gardening, to sessions on body awareness, games, making paper flowers and poster colours to making fryums and listening to a soul rendering performance…Summer school was fun and learning unplugged. The focus this summer school was on cooking to hone motor skills. It was a riot of fun and frolic that revealed and celebrated the skills and abilities of all the members of Snehadhara.