"How far we travel in life matters far less than those we meet along the way."
-Amee
45th International Conference of AEE at Montreal, Canada
Gitanjali Sarangan was an invited presenter at the 45th International Conference of the Association for Experiential Education at Montreal, Canada. This conference brought together a worldwide community of more than 700 practitioners, teachers, therapists, facilitators, adventure guides and trainers.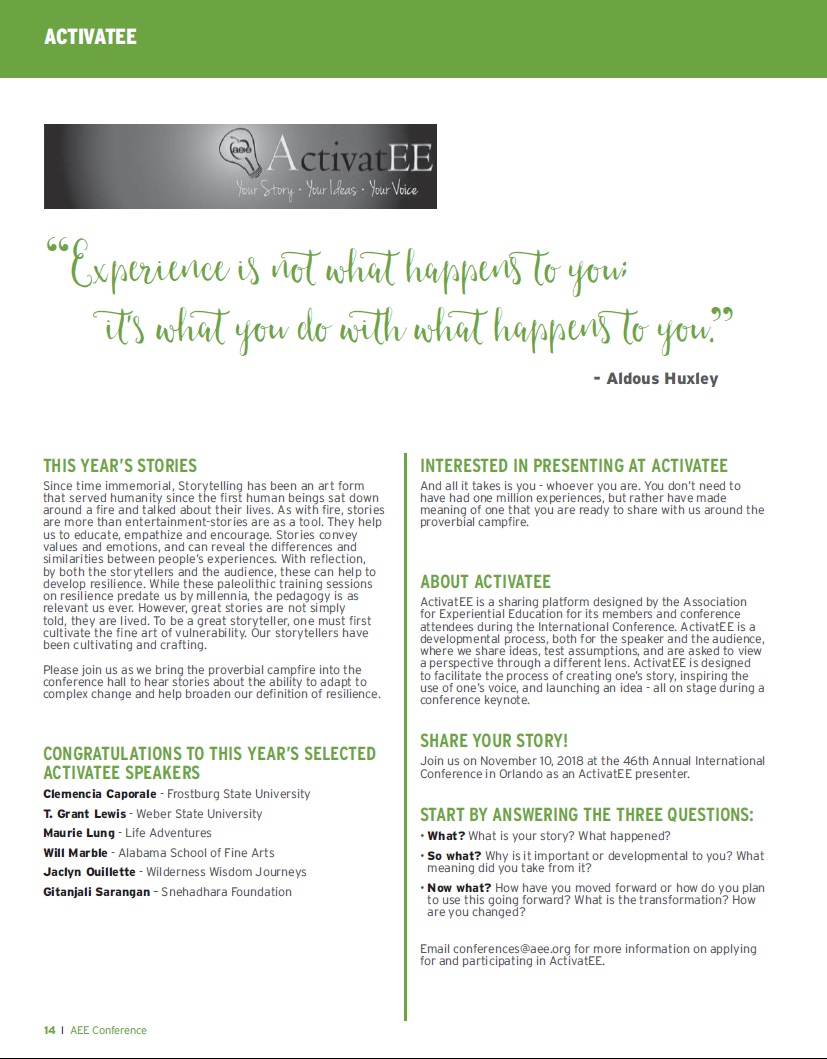 The Super Achiever Award
This award is instituted by the Association of People with Disability (APD) in memory of its founder N.S Hema, who established the organization in 1959. This Award is to recognise outstanding work of Karnataka based NGOs in the field of Disability in and outside Karnataka.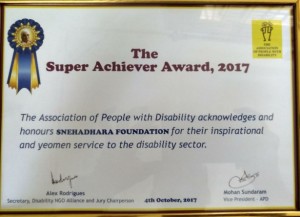 Along with awarding the N S Hema Memorial Award to Tamahar Trust this year, five NGO's were recognised as Super Achievers. The recognition is for organisations that have done great work worthy of the national and international recognition and whose contribution to the sector has been immense and inspiring.
The NGO Leadership Award
We are pleased to announce that Snehadhara Foundation has been a recipient of the NGO Leadership Awards 2017 on 20th Sep 2017 by The World CSR Day. The Bengaluru NGO Leadership Awards recognises leaders who have contributed value & made a change as a strategic tool for sustainable growth. Such Leaders who are impactful & believe that there is a MAD approach to their work (Making A Difference).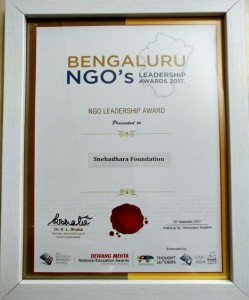 Millennium Alliance award – Top five Innovations in the country for Education
We are extremely proud to be the recipient of the Millennium Alliance (MA) award as one of the top five Innovations in the country for Education. This is also the first time MA has recognised and awarded a project for disabilities and inclusion. Our Executive Director, Gitanjali Sarangan has been awarded as the Innovator for the project ' Kala Samavesh for inclusion and education of disabilities'.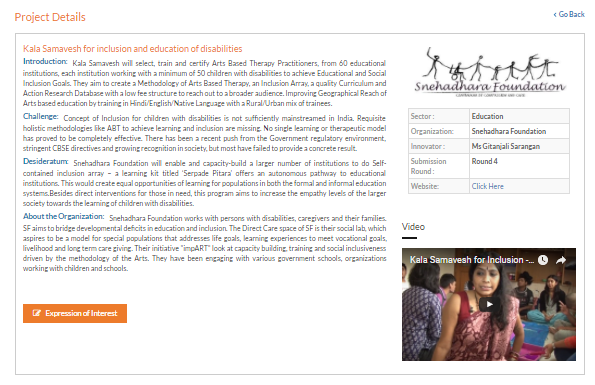 The MA is an inclusive platform to leverage Indian creativity, expertise, and resources to identify and scale innovative solutions being developed and tested in India to address development challenges that will benefit base of the pyramid populations across India and the world.
Under FICCI's leadership and in partnership with United States Agency for International Development (USAID) and the Technology Development Board , Department of Science and Technology, Government of India ,Millennium Alliance awards Innovators in various sectors.
Award for 50 Most Impactful Social Innovators
Our Executive Director, Gitanjali Sarangan was conferred the award of one of the "50 Most Impactful Social Innovators" globally at the World CSR Day.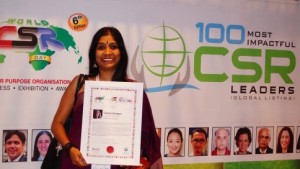 Certificate of Merit
Snehadhara received the "Certificate of Merit" for our quality of work, reach and outlook, and ability to contribute value to social change at the World CSR Day awards.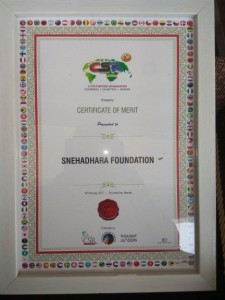 Dr. Amarnath Annual Award for Inclusion
Gitanjali, our Executive Director received the 'Dr. Amarnath Annual Award for Inclusion' acknowledging her ceaseless effort towards the inclusion of children with special needs at The Roopa Shivkumar Memorial Annual Seminar.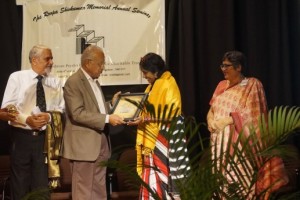 IFA Artist's Grant 2014
IFA Artist's Grant 2014: Taking Art in Education Ahead
India Foundation for the Arts has awarded Gitanjali Sarangan, Executive Director, Snehadhara Foundation the Artist's Grant for the 'Art in Education Program' for this academic year. She is one among two artists to be awarded the grant this year.
Taking ahead our belief in Art Based Education and its effectiveness in creating inclusive and accepting environments and more importantly integrating arts into teaching methodologies within classroom settings, the 'Art in Education' program will help create an inclusive program for 30 children from the Puttenahalli Government School and their community. This work will use creative arts based interventions to build awareness about the environment and water conservation among the children and their neighborhood. The program will also focus on building social skills in children while looking at specific needs of those who require support with meeting learning needs.
India Foundation for the Arts (IFA) is an independent, nationwide philanthropy organisation, dedicated to strengthening the arts in India. IFA's mission is to enrich the arts in India, by providing support for innovative projects and capacity building across all the arts. IFA makes grants to individuals and organizations with the aim of filling important gaps in private and public assistance for culture and the arts in India.
Global Ethics Forum's 'My Choice for Equality' Recognition 2014
Gitanjali Sarangan has been recognised by Global Ethics Forum and Indian Institute Of Management, for being an individual who has stood up against inequality and taken action towards establishing a more equal, impartial, and fair world.
Globethics.net is a global network of persons and institutions interested in various fields of applied ethics. It offers access to a large number of resources on ethics, especially through its leading global digital ethics library and facilitates collaborative web-based research, conferences, online publishing and information sharing.