"If we are to achieve a richer culture, we must weave one in which each diverse human gift will find a fitting place."
Margaret Meade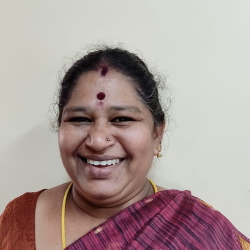 Kalamma
Kalamma heads our Kitchen Team and is as much of an efficient manager as she is a wonderful cook. She is a mother of two, and a grandmother of two. She has had a long experience of working with children and is fluent in Kannada, English, Hindi, Tamil, and Telugu. While managing the kitchen, she also works with the children directly, and her warm presence is a treat in the sessions.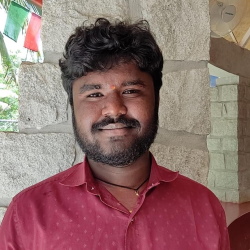 Satish
Satish is a part of the support team of campus and helps out in the maintenance of the space, as well as directly works with children. He enjoys driving and playing different sports. He has also volunteered at Ramakrishna Vivekananda Ashram Kalaburagi for a few years. When he's not on campus, he likes listening to music and has often given the children and the team soulful performances of Kannada and Telugu songs. He brings his energy into his engagement with the children and his fun and supportive demeanor is an asset to have in the sessions.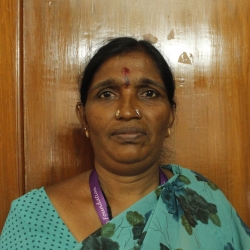 Siddamma
Siddamma has worked for a living and overcome many challenging life situations almost since the age of 10. At 53, she now feels strong enough to overcome any difficulties and support not just herself but also many others. Siddamma worked in a physiotherapy clinic where she helped in caring for children undergoing treatment. She also worked with supporting children going through physical exercise and gym routines for therapeutic purposes. Working with children is very close to her heart and she thrives on caring for them. She has 2 children – a daughter (31) and a son (29). Her two grandchildren are teenagers.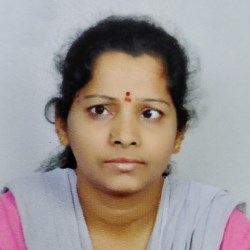 Shashikala
The first job that Shashikala ever decided to take was with Snehadhara Foundation. Her own two daughters Sushma, 15 and Trisha, 11 are more independent now so she decided to start working. She was very keen to work with disabled children and be of assistance to them. As a support staff at Snehadhara she provides in-class support to the children, and says she feels a sense of satisfaction at the end of the day.
She likes music and singing, but is shy to sing in front of an audience. She loves watching serials and "Amruta Varshini" is her favourite.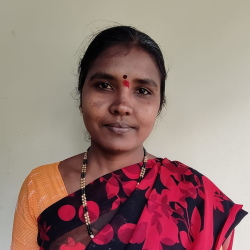 Renuka
Renuka is an integral part of our Kitchen Team on campus. She hails from Raichur and is a mother of two- Madhu and Rakesh. She loves to cook, and the entire team is a big fan of her South Indian-style dishes. She has been supporting the kitchen on campus since its inception, and her warm presence is always felt around the campus.