"If we are to achieve a richer culture, we must weave one in which each diverse human gift will find a fitting place."
Margaret Meade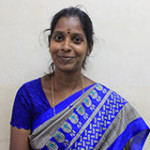 Uttara
Known for her gentle ways, Uttara's journey with Snehadhara began 4 years ago after a year at Magic Puddles where she started working with children. Originally from Tamil Nadu, she has been in Bangalore for the last 12 years.
Uttara's firm gentleness is reflected in her interactions with the children who bond with her and pay heed to her without her ever having to raise her voice, her capacity to work hard is showcased at the centre on a daily basis and her simplicity is implicit in her sheer focus with the task at hand and the dedication she brings into all her relationships whether with work or with people. 'I forget all the stress of the outside world when I enter Snehadhara and can be with the children'.
Besides the drumming sessions at the centre, Uttara enjoys devotional music and painting. She epitomises the simplicity and integrity which is the essence of a space like Snehadhara.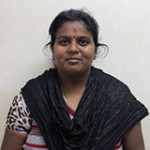 Alamelu
"Talk less and smile more," seems to be Alamelu's motto. A long timer at Snehadhara, she looks forward to being at the centre. She loves being a part of all the activities and participates in them with enthusiasm, her most favourite activity being painting.
She enjoys working with the children because she feels in her own small way, she is helping someone.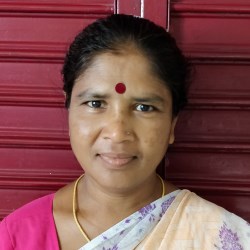 Gowriamma
Gowriamma is the proud mother of 4 children: Keshava – 28, Kumara – 24, Jyoti – 23, Venkatesha – 22. Once her own children grew up, she used to be a nanny to a two-year old child. But after joining Snehadhara, she talks of how from one she now has many children whom she can take care of.
She feels doing something for the special children is like doing something for God. Just like God, they don't talk, they are in a different world and we give them food, as many of them cannot feed themselves. She has been with Snehadhara for a few months now and she says every time she sees the children she is inspired to work harder.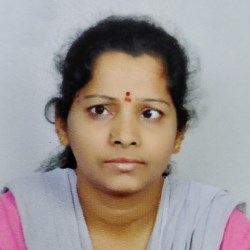 Shashikala
The first job that Shashikala ever decided to take was with Snehadhara Foundation. Her own two daughters Sushma, 15 and Trisha, 11 are more independent now so she decided to start working. She was very keen to work with disabled children and be of assistance to them. As a support staff at Snehadhara she provides in-class support to the children, and says she feels a sense of satisfaction at the end of the day.
She likes music and singing, but is shy to sing in front of an audience. She loves watching serials and "Amruta Varshini" is her favourite.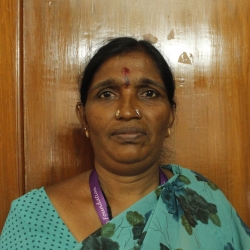 Siddamma
Siddamma has worked for a living and overcome many challenging life situations almost since the age of 10. At 53, she now feels strong enough to overcome any difficulties and support not just herself but also many others. Siddamma worked in a physiotherapy clinic where she helped in caring for children undergoing treatment. She also worked with supporting children going through physical exercise and gym routines for therapeutic purposes. Working with children is very close to her heart and she thrives on caring for them. She has 2 children – a daughter (31) and a son (29). Her two grandchildren are teenagers.