Snehasangiti is our collaborative Gurukul for Inclusive Education, where we seek spaces that walk with us and prepare us for a rich harvest of empathy, interaction, acceptance, participation and legitimacy.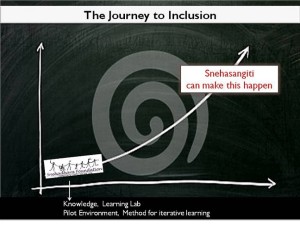 Highlights of the Program

Inclusion is about the intentional building of relationships and creating conversations.
Inclusion is recognizing our universal "oneness" and interdependence. Inclusion is recognizing that we are "one" even though we are not the "same". Inclusionary spaces welcome, acknowledge, affirm, and celebrate the value of all learners
At Snehadhara we have seen that respect and understanding grow when children of differing abilities have the opportunity to play and learn together. Since the last two years, through Snehasangiti,  our collaborative gurukul,  we were able to put into practise our hope of creating such a community of learners. Partnered with Kids Corner School, our children have shown us that communities grow when people honour a commitment to laugh, shout, cry, argue, sing, and scream with, and at, one another with mutual respect and understanding.
We can't ever honestly celebrate diversity if we pretend to bring in the harvest before we have tilled the ground together. So through Snehasangiti, we prepare for another year of a rich harvest of empathy, interaction, acceptance, participation and legitimacy by seeking out spaces that are ready to walk this path with us.
Using the Arts as the momentum, the children will drive this endeavour towards a community, a society that celebrates diversity.
Kid's Corner School JP Nagar
"Inclusion works to the advantage of everyone. We all have things to learn and we all have something to teach."
  -Helen Henderson
Our Snehasangiti program has been the harbinger of inclusive thought and action for both Snehadhara as well as Kids Corner for the last 2 years. Co-locating with Kids Corner has enriched the learning for both organisations. The first year of tentative steps, albeit with a strong belief in inclusion, acquainted the children with one another and opened a chapter of creative expressions leading towards allowance and acceptance. The next year saw the strengthening of the process as the connections increased and the children approached each other with more confidence. As we begin 2018-2019, the intent is to empower the children to lead the way. Let them hold the harness and steer the program now that they have begun to establish deeper links with one another. Looking forward to another year of building communities through dance and song, rhythm and movement, vibrant colours and playful moments.
Our engagement with Kids Corner in 2017-18 was a clear demonstration of the fact that when hearts are big enough to allow, spaces open up to accommodate.
Our children were hosted with grace, delight, respect and joy at the Kids Corner premises every Wednesday and amidst the artistic domain of songs and music, play and games, paint s, colour and balloons a beautiful dialogue emerged. Sometimes the children of Kids Corner were invited to events which they shared with the children at Snehadhara in varied outdoor spaces. The intent remained for them to partake of each other's worlds and savour the uniqueness of the diverse spaces.
Carrying forward this conversation between the two groups of children from Snehadhara and Kids Corner, we continue in 2017-18 with the same model of buddying one another, learning from each other. Learning, not just tangible forms but also communicating with, receiving from , rejoicing in, sharing with and cheering each other.
Taking the engagement to another level, this year children from Snehadhara will once again visit Kids Corner as well as reciprocate the gesture by receiving the children from there at Snehadhara once a week too.
A dual engagement in this manner would only serve to enhance the social competence, acceptance and allowance for both groups.