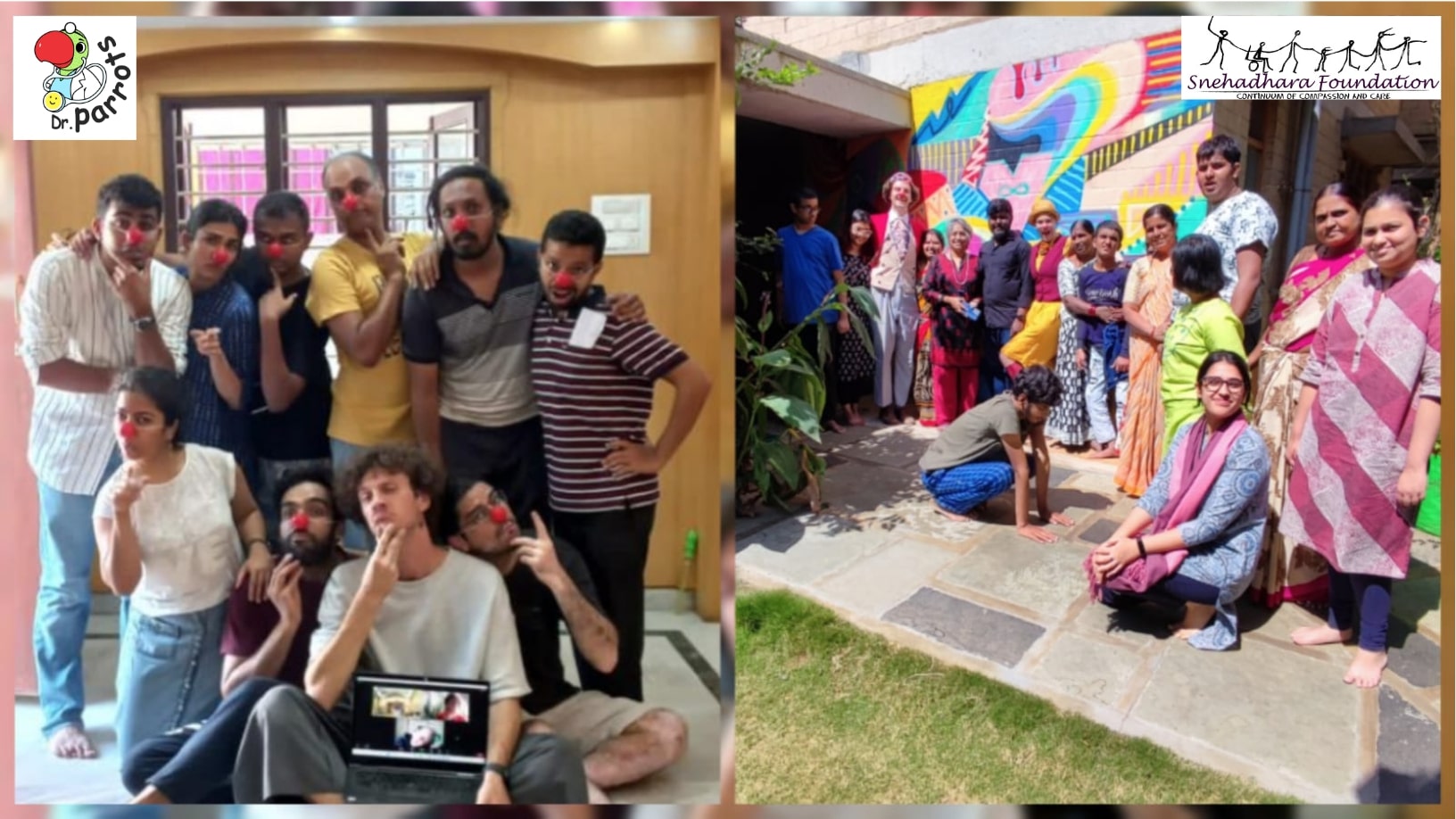 Bringing Joy to Healthcare!
SF Teams Up with Healthcare Clowns from Doctor Parrots for Enhanced Wellbeing!
Snehadhara collaborates with Doctor Parrots- an initiative that works in its unwavering commitment to fostering holistic health through healthcare clowning. Doctor Parrots has 10 Healthcare clowns working as volunteers and guided artistically by Igor Narovski, Artistic Director of "Dr. Klauns" in Latvia, and Suzie Ferguson, Artistic Director of "Hearts and Minds", Scotland.
What is Healthcare Clowning? 
One of the definitions says that clowning is "a childlike state of generosity and spontaneity"!
Healthcare clowning is a form of expressive therapy that uses the skills and techniques of professional clowns to support and comfort patients in healthcare and reduce anxiety and stress. However, in India, it is at a very nascent stage and very few attempts have been made until now to apply the wonderful art of clowning to help patients in need.
Emotional Support and Stress Relief
Healthcare clowning helps create a positive and uplifting atmosphere in healthcare environments. Clowns use humor, playfulness, and creativity to alleviate stress, anxiety, and emotional tension that patients and their families may be experiencing.
Family Engagement
Healthcare clowns also involve family members in their interactions, helping them cope with the challenges of medical situations and creating shared moments of laughter and joy.
Social Interaction
Healthcare clowns engage patients in social interactions, especially those who might feel isolated or lonely during their hospital stay. This human connection can mitigate feelings of isolation and improve patients' overall sense of connectedness.
Creative Expression
Healthcare clowns use their creativity, performance skills, and improvisation to adapt to each patient's unique situation, providing personalized interactions that cater to individual preferences.
Enhanced Atmosphere for Healthcare Staff
Healthcare clowning doesn't only benefit patients and families; it can also boost the morale and well-being of healthcare professionals by creating a more positive and enjoyable work environment.
Holistic Care
Healthcare clowning complements traditional medical care by addressing emotional and psychological needs, contributing to a more holistic approach to patient well-being.
Enhanced Well-Being
Interactions with healthcare clowns can improve patients' mood, boost their spirits, and contribute to an overall sense of well-being. Laughter triggers the release of endorphins, which are natural "feel-good" hormones.
Distraction from Pain and Discomfort
The presence of healthcare clowns can serve as a distraction for patients undergoing painful procedures, medical treatments, or surgeries. Laughter and engagement with clowns can help shift focus away from pain and discomfort.
Reduced Anxiety and Fear
For pediatric patients, medical procedures can be frightening and confusing. Healthcare clowns help reduce anxiety and fear by transforming medical settings into more familiar and playful environments.
Humanizing Healthcare
In an environment often associated with clinical procedures, healthcare clowning humanizes healthcare by introducing humor, spontaneity, and creativity, reminding everyone of the human aspect of caregiving.
Enhancing Healing
Studies suggest that positive emotions and laughter can have physiological benefits, including improved immune system function and decreased stress hormones. These factors may contribute to a faster recovery and improved healing outcomes.
Improved Patient-Provider Relationships
Healthcare clowns create a friendly and non-threatening environment, fostering positive relationships between patients and healthcare providers. This can lead to better communication and cooperation in the care process.
Glimpses of Healthcare Clowning
About Doctor Parrots Initiative
Doctor Parrots was founded in the year 2023 by Igor and Sriharsha. They are professional clown doctors dedicated to improving the emotional well-being and resilience of people experiencing stress. They bring lightness and relief through humour and connection.
People in vulnerable positions such as those undergoing medical treatment or those living in marginalised spaces face health and social challenges. By empowering people to reconnect with their inner joy and playfulness through therapeutic games, they enable them to overcome these challenges with dignity. As Clown Doctors, they approach every person they meet with curiosity, respect, unity, continual learning and gratitude.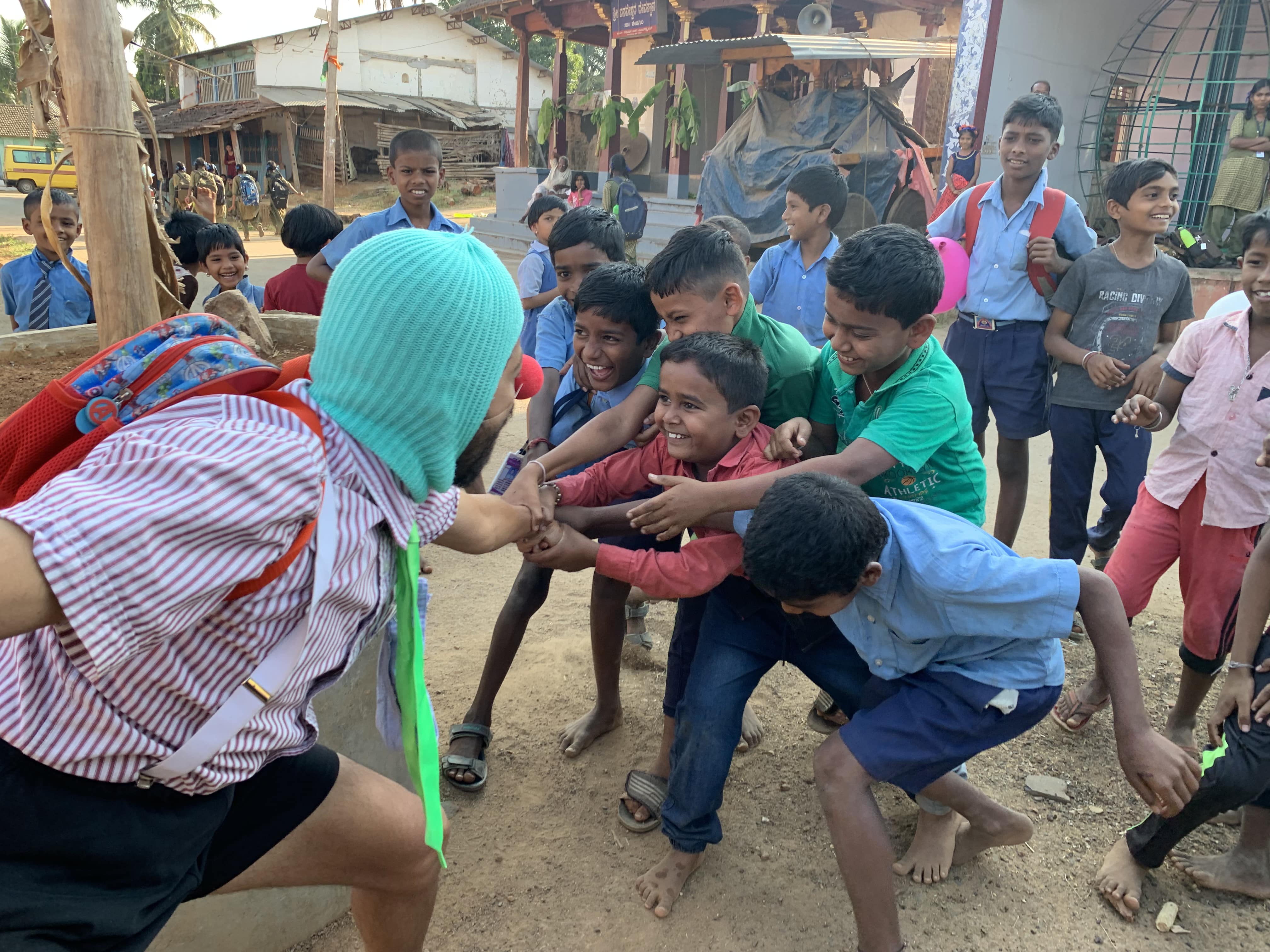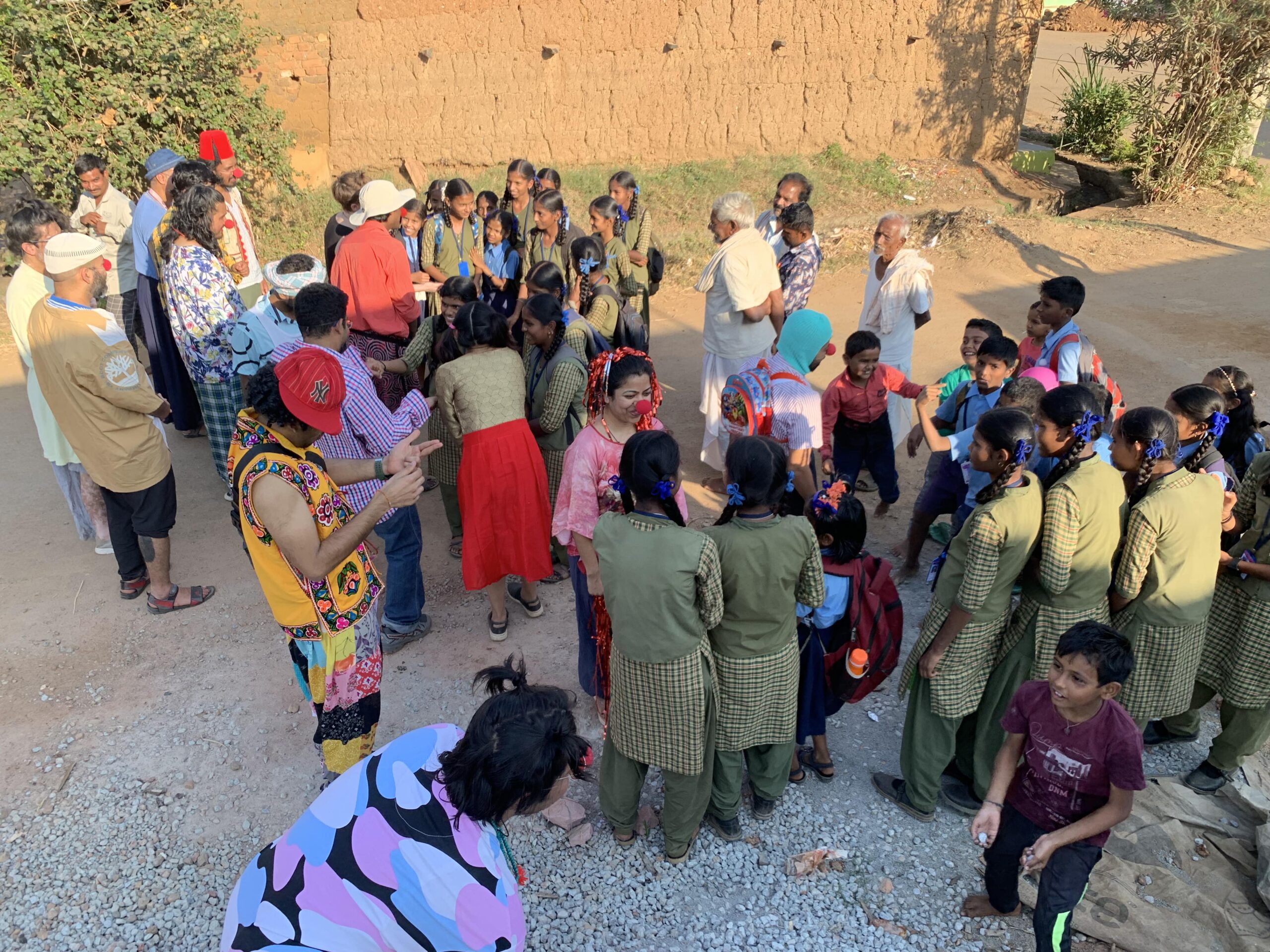 Spaces where Doctor Parrots has worked previously
Mazumdar Shaw Cancer Center
Shankara Foundation Cancer Hospital
HCG, Pediatric Oncology Department
Bannerghatta road Slum
Chikkanayakanahalli, near Tiptur
RR Nagar Slum
Hoskerehalli Slum
Jyothiba Phule Slum, Nayandahalli
Jayanagara Slum
Sahakaranagar Slum
Nagarabhavi Slum
Jyotinagar rag pickers community
Meet the Founders and Artistic Directors at Doctor Parrots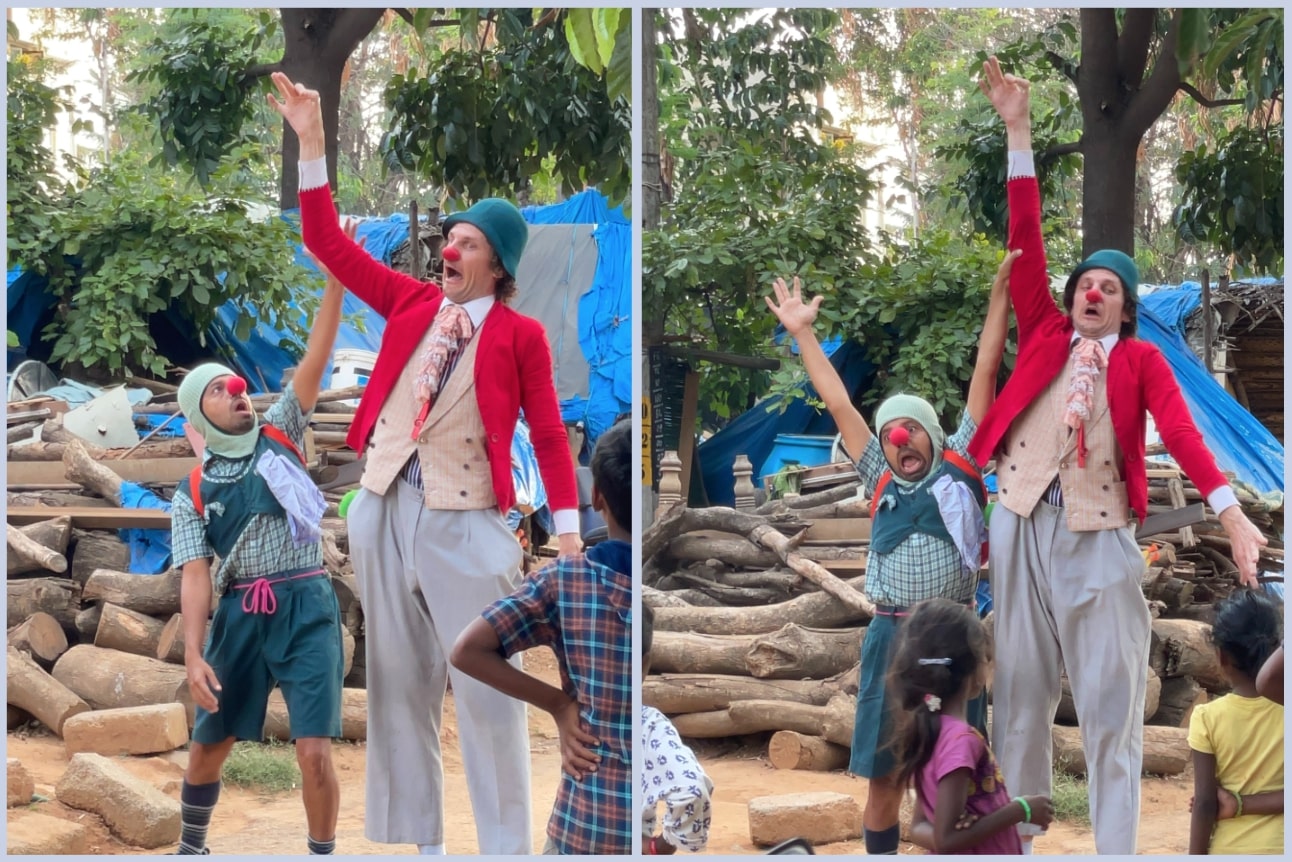 Igor Narovski is a clownstronaut, poet and adventurer. As artistic director of Dr Klauns, Latvia, he has over 10 years experience clowning in healthcare environments, opening the portal to the imagination, story and play for children, parents, and staff in hospital. His background in psychology gives him a unique perspective into both the world of the clown, and the inner world of the people they meet and the trauma they face. As a published poet, his writing acts as a self-enquiry in verses, offering a tantalising glimpse to our non-perishable, true self.
Just in the last three years, Igor has been supporting Latvian artistic program and artists through the pandemic, delivering training to two separate cohorts of new healthcare clowns, coaching and mentoring the clown team, and has carried out two humanitarian missions in Poland after the outbreak of war in Ukraine, and one humanitarian mission in Lviv, Ukraine.
Sriharsha is a Bangalore based theatre artist from more than 20 years. Software Engineer by profession, he has worked in several theatre productions in Kannada, English and Hindi languages. His association with arts started at an early age of 6 as a student of Bharathanatyam. He has completed Junior exams and practiced for 12 years under several well known gurus.
As an actor he has undergone training in multiple forms like yakshagana, suzuki and viewpoints, kalaripayattu and realism. He has also directed many plays and conducted theatre workshops for corporate and non corporate setup. He is now a freelance actor and also an active volunteer with Jangama Collective, an arts and theatre company based out of Bangalore.
Sriharsha, after a brief introduction to Healthcare clowning by Igor in 2022, was drawn to it and not only participated in the 3 month training conducted by Igor, Linda and Suzie in 2023 but also organised and managed the complete program.
Doctor Parrots In the Media
Experiences from Healthcare Clowning
"A child was diagnosed with cancer and had to be at home two weeks and next two weeks at hospital and again two weeks at home and back in hospital again for two weeks which continued like this. So everytime he had to go to the hospital for two weeks, he hated it and his parents were having an extremely hard time convincing the child. The child then met clowns and he started playing with them at the hospital. A day before the next hospital visit the child started packing his bag to the surprise of his parents. When they asked what he was trying to do, the child replied he was packing his bag because tomorrow he was seeing the clowns. You can imagine how relieved and happy his parents were with this small change. This is the kind of difference healthcare clowning can make." 
"In my experience one of the most important things that a clown can do is to empower a child. For example, in one shift I met a boy. I work in a regional hospital, and it was a boy from a village. A bit shy, but also helpless and a bit angry. He had no control over his life at that point. He must accept the medicine he is given, he must eat what is offered by the hospital even if he doesn't like it. He wants to go home, but he is not allowed. A nurse comes for a check, he has to cooperate. I went to play and have fun. But he sent me away. And this was the best thing that could happen – I was the only one that he could send away. The only thing that he had control over. Of course, I came back in a few minutes and tried again. And he let me in this time. And slowly we made contact and he gave me some fun commands. When I left he looked much more energized, stronger. Ready to heal sooner and get home."
The Collaboration with SF
The healthcare clowns at Doctor Parrots will be collaborating with SF and will start the work with various healthcare and outreach spaces. They will also be working with the children at our Nelamangala campus, at our flagship programme for inclusion-Sangam and within the Government Schools we work with.
Our partnership with Doctor Parrots signifies a shared dedication to promoting overall wellbeing, love and happiness. Together, we aim to infuse hospitals and healthcare facilities with moments of joy and respite, recognizing the healing power of laughter and positivity.
In February 2023, Snehadhara's Nelamangala campus hosted Suzie and Igor- clownstronauts as they call themselves-for a day of joy, fun and meaningful exchange. An exciting day turned into an experience unlike any other, where healing happened not only through laughter, but also through the space of true acceptance and inclusion. Through their own ways of storytelling, the children became heroes and muses, creating a connection that was beyond barriers of language or abilities. Freedom and compassion were at the forefront of their presence during their visit.
Snehadhara's Work within Healthcare: at Prameya Health with cancer patients and survivors and
St John's Medical College Hospital with doctors and caregivers!