Sangam means a meeting or confluence of different rivers which come together to make something greater. In the same way as rivers meet, this programme aims to give a platform to adolescents and adults with varied needs a place to make and meet new friends, explore their social world, and use different artistic mediums to collaborate.
Sangam- Meeting of hearts and minds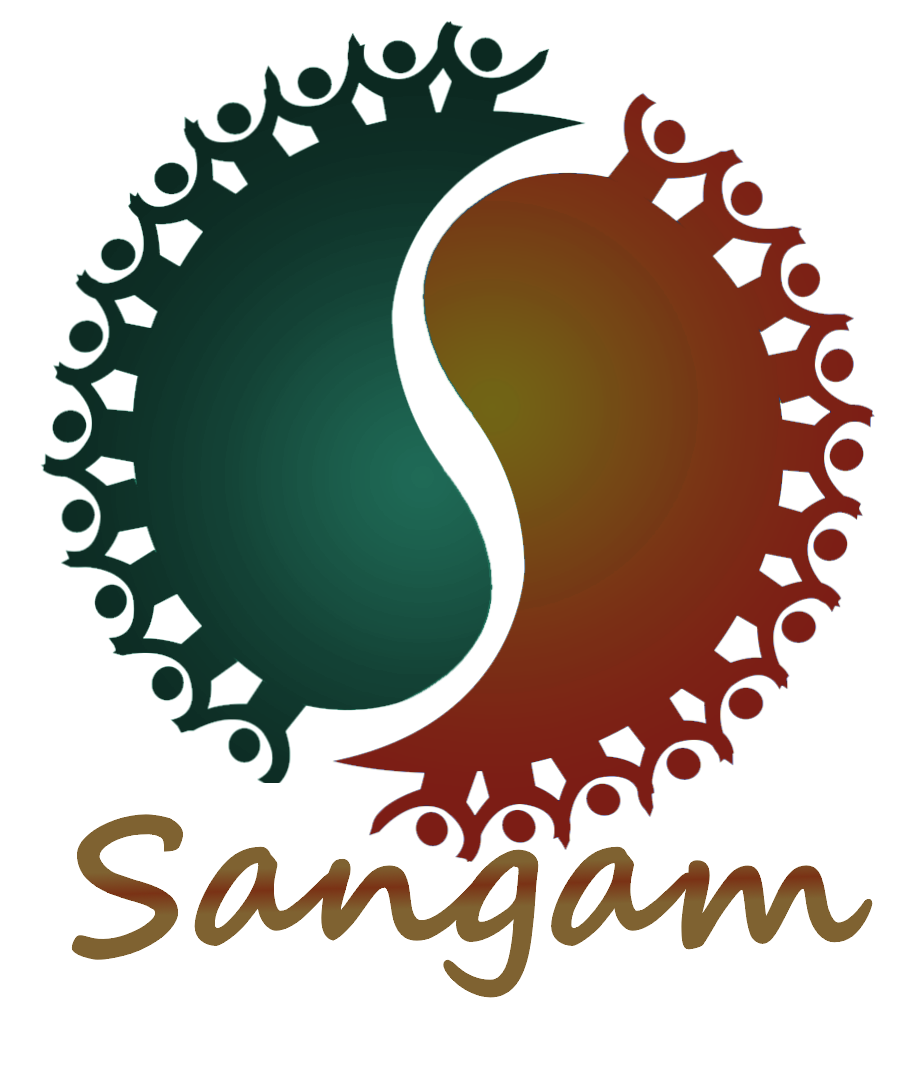 Due to the Covid-19 pandemic, many families have been forced to quarantine, isolate or stay at home. In families with adolescent or adult sons or daughters, the social and emotional needs of connecting with other adolescents and adults are not being met. These needs are further complicated when they present for adolescents and adults with disabilities or special needs.
As adolescents and adults with disabilities may experience difficulties in connecting and interacting with their peers due to special communication needs, Covid-19 related quarantining seems to affect them in two critical ways. The first is the effect of isolation in terms of physical distance from peers. This effect is partially met through screen interactions. The second effect is the relative limitations in social communication due to disabilities, and the mitigation of those limitations through direct peer to peer contact which involves an embodied way of communication.
For all these reasons, and keeping in the mind the social needs of adolescents and adults, Sangam offers a day of 'meet and greet' with a view to enable adolescents and adults with disabilities or special needs to meet peers in a social setting for a day of making new friends, exploring social interactions and participating in art, play and other activities.
It is expected that through these meetings and collaborations, adolescents and adults will be able to make something greater – a greater strength and resilience to cope with the effects of the Covid-19 pandemic through making social communication easier and encouraging the making of peer-relationships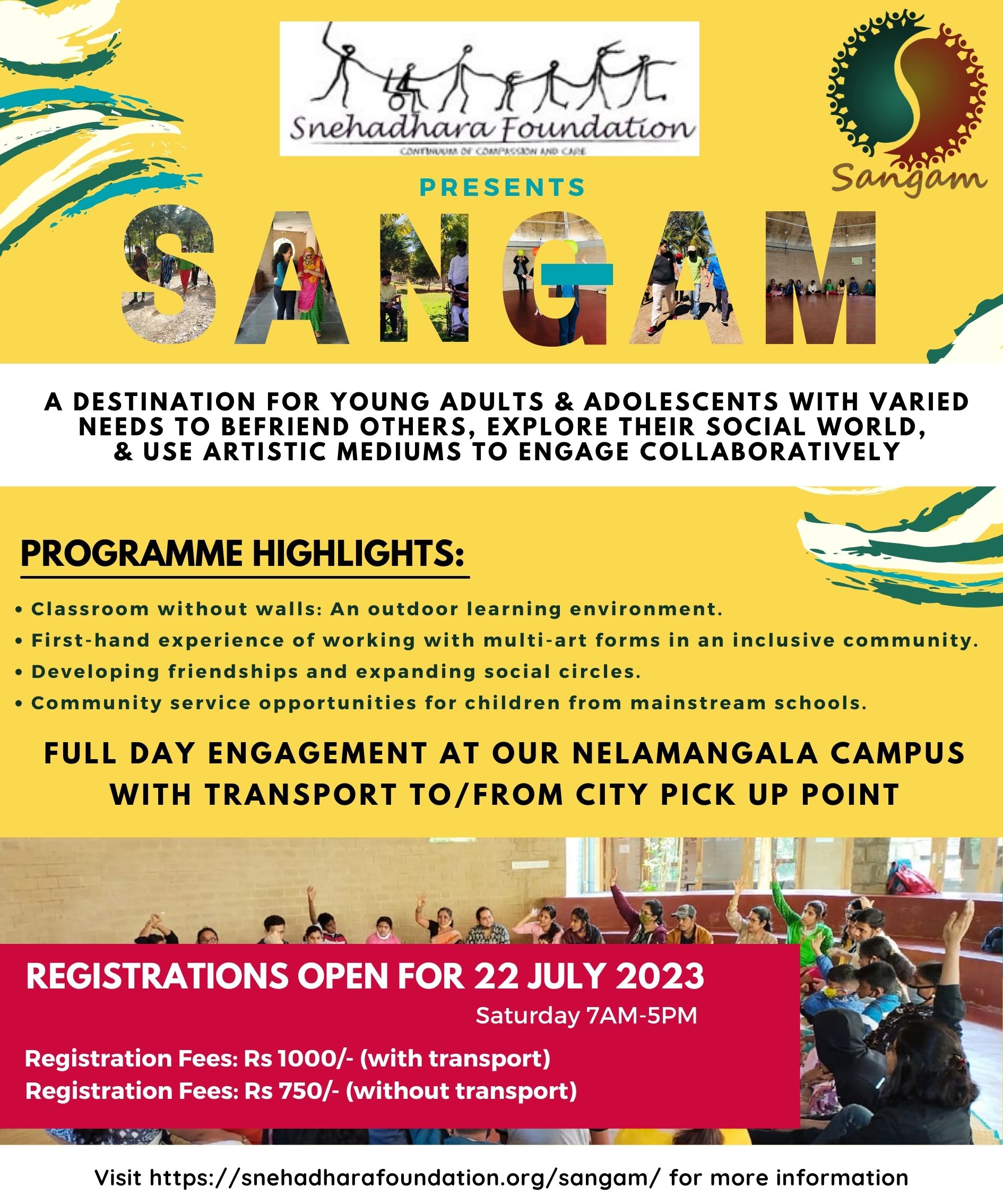 Allowing adolescents and adults to come out of the closed spaces and screen time in the cities to visit and explore the Snehadhara Campus and its surroundings. As the Campus is located in the middle of nature, trees, and open grounds away from the noise and pollution of the city, the programme will help them cope with the ill-effects of closed spaces and screen time; thus, also promoting social and emotional health.
Provide a meeting space for adults and children with varied abilities. 
Make that meeting space encouraging of social communication and interaction.
Open up the programme to adolescents and adults from different homes, schools and centres; hence, giving them an opportunity to interact and make new friends.
Enable adolescents and adults to make and keep those new friendships by having monthly 'meet and greets' at Snehadhara Foundation's campus in Nelamangala city.
Give adolescents and adults artistic tools like games, play, art, drama, music and dance as mediums to communicate and interact.
Build capacity of adolescents to better adjust to 'stay at home,' quarantine' or 'social distance/ isolation lives' back at home through the strength acquired from making and meeting new friends.
Working with the Arts and build creative circles together throigh music, drama, visual compositions.
Meet and Greet of adolescents and young adults with varied needs.
Become part of lifelong inclusive communities.
Engaging tools and workshops for children to maintain social health and develop friendships.
Build "life skills needed in quarantine".
Being with nature in serene, clean surroundings.
Full day engagement with transport to/from city pick up point.
Trained support staff for care taking.
Community Service opportunity for children from mainstream schools
All COVID Protocols followed.
One Saturday in a month
There will be a bus arranged from a common pick up point in South Bengaluru to the Campus.
The fee for the programme is Rs 750 for those not availing of the transport facility and Rs 1000 for those availing of the transport facility.
The maximum number of participants per session is limited to 20.
Registration will be on a monthly basis.
Make the transfer of INR 750 or INR 1000 using NEFT or Google pay to this account (Help)
Snehadhara Foundation
A/C 913010016304893
IFSC code UTIB0000333
Axis Bank at J.P.Nagar
Take a screenshot of the payment success page
Click the button below to fill up the applicant details and upload the payment screenshot in the form