The word Illam (written as இllam) means home in Tamizh and it ties wonderfully with the French école for school. The home is a pivotal part of this programme and has allowed Snehadhara Foundation to achieve goals with the parent as an important, crucial cog along with the facilitators in the wheel centered around the child. Incidentally, the Arabic word ilm means knowledge.
Snehadhara Foundation has been using the Arts as a medium to impart learning and achieve independence, inclusion, and therapeutic goals for the children with special needs. The programme started with a physical centre to house the children with their teachers and having artists, facilitators, special educators, artisans come in and share learning spaces together. Over time, this was augmented with add-on components like cooking, gardening etc. as life skills through a variety of programmes and innovations. Each innovation stemmed from the needs of the children we worked with. The efficacy of these methods has been tested and the programme fine-tuned to deliver desired outcomes.
While this process was on, Snehadhara has been keenly aware that remote teaching and tutoring for children with special needs is essential to have the child in a comfortable setting, have the parents involved, typically beyond work hours; and make the programme available to a larger community. This perspective has culminated in the curriculum and content being built in a form and manner to suit the digital media commonly available.
Inadvertently and by providence, the COVID-19 situation put our whole programme to the extreme test of fire and it came out in flying colours. This has given us the confidence and courage to advance the launch of école இllam for many more children beyond our current group of children. While our current group of children will have their semi-residential programme, the new set of children will be taught in a continuing education format of remote learning interspersed with occasional contact sessions.
The Intent of école இllam
The COVID-19 situation forced a lot of us to rely on technology to create some semblance of continuity with our pre-lockdown lives. Schools and colleges had to shift their teaching using the internet as their primary medium of education. The National Education Policy too had factored in the role of the digital media in advancing the learning process.
What about children with special needs, though? Those already in special schools and workshops have had a smattering of learning through the lockdown as the institutions themselves were looking for how best to reach out to the children. While the NEP spoke about making schools more inclusive towards those with disabilities, these children have not featured even on the radar of those revising and crafting mainstream curricula.
Never before in India, has a specific online learning programme been designed that is tailored to focus on meeting the learning outcomes and therapeutic goals of these children. Hitherto, the children have been familiar with some basic apps on mobile phones, some of them even having functional knowledge of devices such as tablets and iPads.
Working our way through the arts, we look to meet each child's varied goals, give them reprieve from the cooped-up feeling of the lockdown, engage them emotionally and intellectually, and in a way foster a sense of co-learning with similar peers as well as their parents.
Children—you'll be surprised—are often quicker and more enthusiastic about shifting gears than adults tend to be. They make lifestyle leaps and cope with change in their own ways and turn out to be more resilient than they're given credit for. Children and adults with special needs too, will surprise you with how they've adapted and processed the tech-tonic shifts that the COVID-19 lockdown situation has brought with it.
The digital strides we've made these past six months has given us at the Snehadhara Foundation the perfect inspiration to launch école இllam.
école இllam is a first-of-its-kind online learning programme with an arts based curriculum to meet the learning and therapeutic goals of children with special needs, by creating and facilitating a strong peer community of children and parents within the comfort of their homes.
Specially crafted arts-based sessions will be conducted online for children with special needs who want to sample our work without signing up to be with the Foundation full-time. They can do our virtual courses along with the sessions and workshops that they're used to attending through the day. We recognise that while counselling sessions are still available online, there is a dearth of direct, knowledge-enhancing engagement through the internet for children with special needs. With école இllam, we hope to plug that.
Based on the need to engage with the children with special needs for a continued duration of time to meet the therapeutic and learning goals, école இllam courses have been categorised as Basic, Intermediate and Advanced, and are open to children from across the country.
Highlights of école இllam
The Direct Care programmes that have been tried, documented, and researched over the past 8 years, have been adapted to form the curriculum of the virtual classroom.
Through our own online experience with the Direct Care students, we have ample capability demonstration as well as intense research of 40 sessions a week across four months to make the first-of-its-kind successful transition of a special needs learning curriculum online in the comfort of their homes.
Uniquely designed to partner the parents to participate in their ward's learning and therapy process, thus, creating sustainable care for the child. This crucial feature, singularly, has been instrumental in parents being able to connect with the child better while simultaneously keeping their jobs and careers.
The virtual classroom sessions have been fortified with newer approaches that come in with different styles of working online and under the same overarching principles of using Arts Based Interventions as the primary methodology of learning together and meeting the therapeutic needs of the child.
Per the curriculum designed to achieve therapeutic goals, the virtual classroom sessions include crafts and multi-art forms like quilling, yoga, theatre, gardening, cooking, sign-language, singing, drumming, hygiene sessions and more.
Interaction with the children at the campus at least once a year through camps to facilitate experiences of group interaction to build social inclusion.
Sessions will be conducted by our team of trained and certified facilitators, arts practitioners, and educators.
Children will be introduced to science concepts through interactive and hands-on activities in our specially designed course 'Vigyaana Vihaara', focused on sharpening the logical mind through learning about Science in everyday life.
Through the sessions of 'Maitri- Building Our Social World' where they will be able to interact and build meaningful connections with children from other programmes as well as those from organisations with which we are collaborating.
Snehadhara Foundation and its Nelamangala campus remain the mainstay of our work. Although these students have shifted to the virtual platform until it is safe for us to be back in school, we can't wait to go back to the time when the experience of learning and teaching was more intense and tangible. With a physical campus for Direct Care that is currently coping online and a virtual school that has its own curriculum, Snehadhara Foundation reiterates its belief that knowledge and the arts cannot be confined by boundaries of language, culture and geography.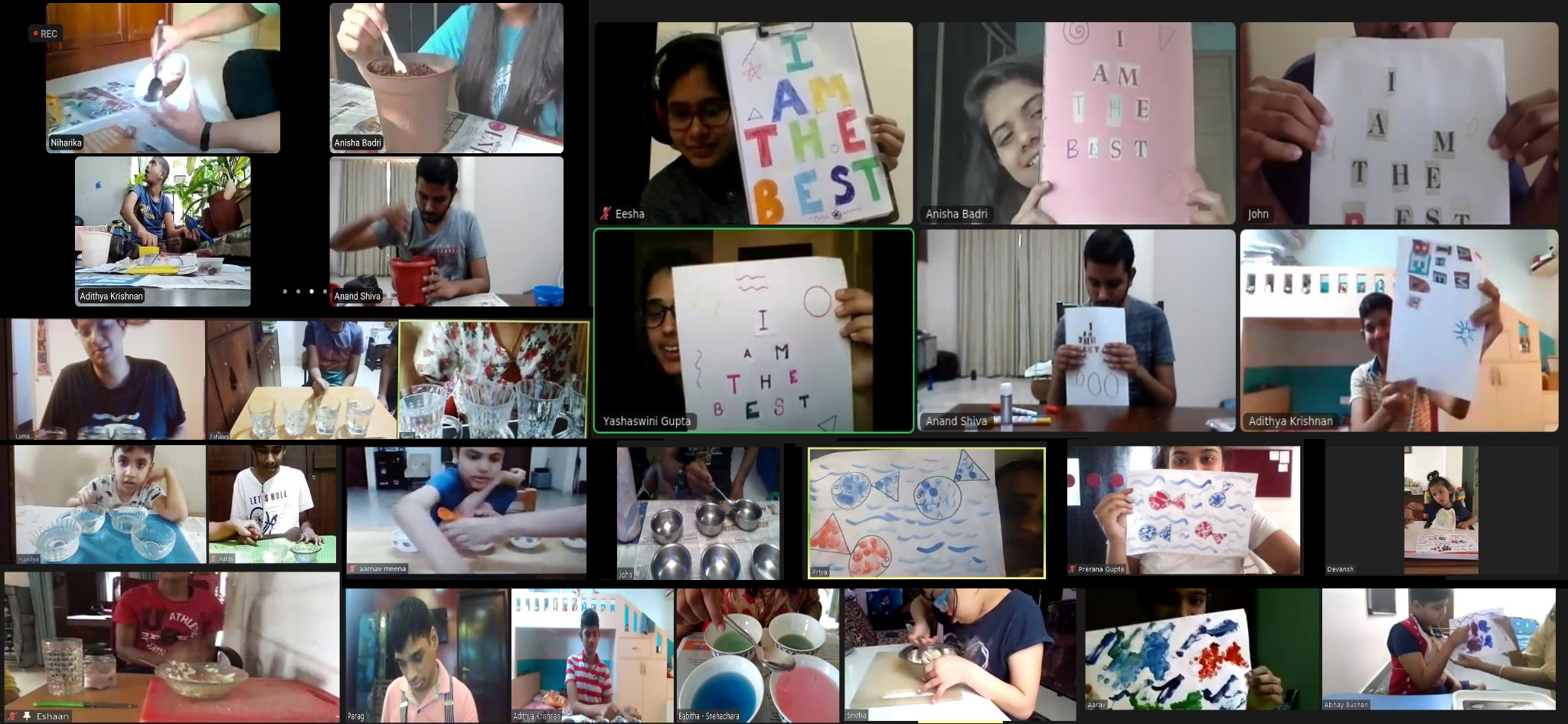 Through école இllam, we acknowledge this new order in society where we practitioners, parents, caregivers and children work together to create a mutually engaging, holistic learning experience.