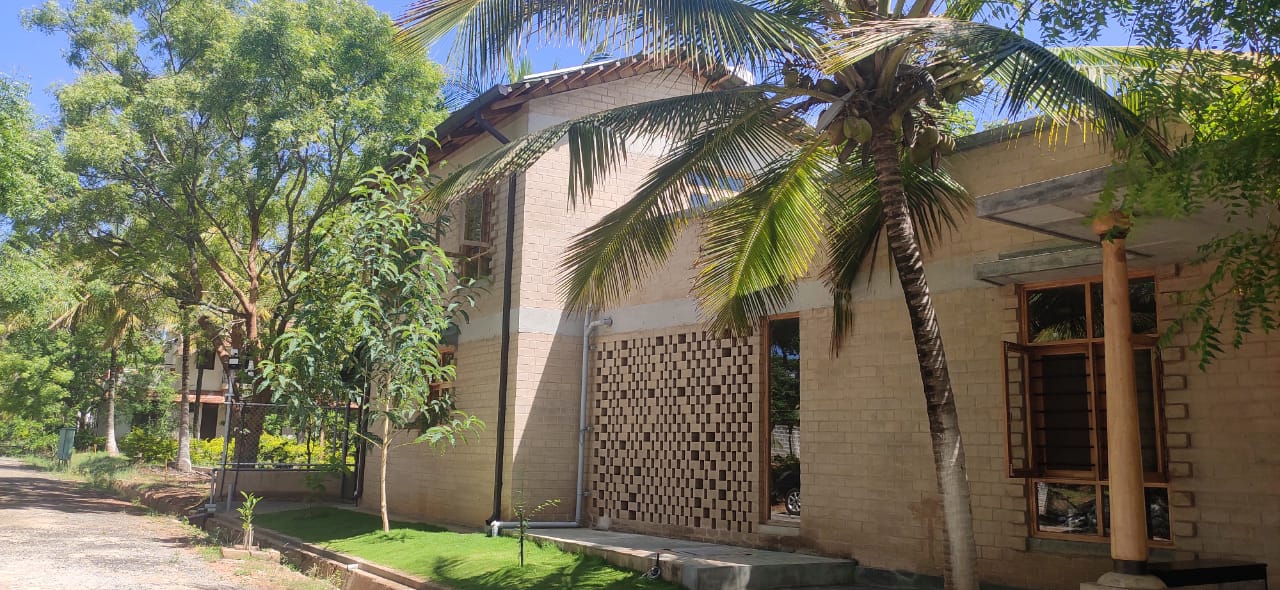 The lush environs of mango and chikoo trees have made our Nelamangala campus an idyllic location for collaborative or therapeutic activities. Designed to harness the best of nature, the campus is an oasis of calm and creativity as its eco-friendly architecture perfectly complements the soothing vibrations of peace and harmony. Our Direct Care children have been the main focus of our ideation and vision for the campus; to create a space that is as conducive for community building as it is for recreation and rehabilitation.
Our campus, home to the Semi-Residential Direct Care Programme of Snehadhara Foundation , is 10,800 sq ft of  pure tranquility amidst lush greenery that surrounds it. Situated within the Aadya Resort (Nelamangala) this space offers the serenity of a retreat away from the commotion of a city while still remaining accessible and equipped with the amenities of a modern life.
The aesthetics and ambience of the area serve as an ideal backdrop for soulful reflection, invigorating conversations, as well as an overall conducive environment for growth and learning. The rustic and antique charm draws one in the moment they set their sight on the centre and keeps them hooked; yearning for an engagement with the space in some way or form.
As sustainability runs in our veins, we have strived to lower our carbon footprint through the use of alternate energy resources. The installation of solar panels, rainwater harvesting, compost bins, and a water recycling unit have taken us many steps closer to achieving our goal of getting off the grid and has ensured that we embody the values to which we adhere, in the way we lead our lives.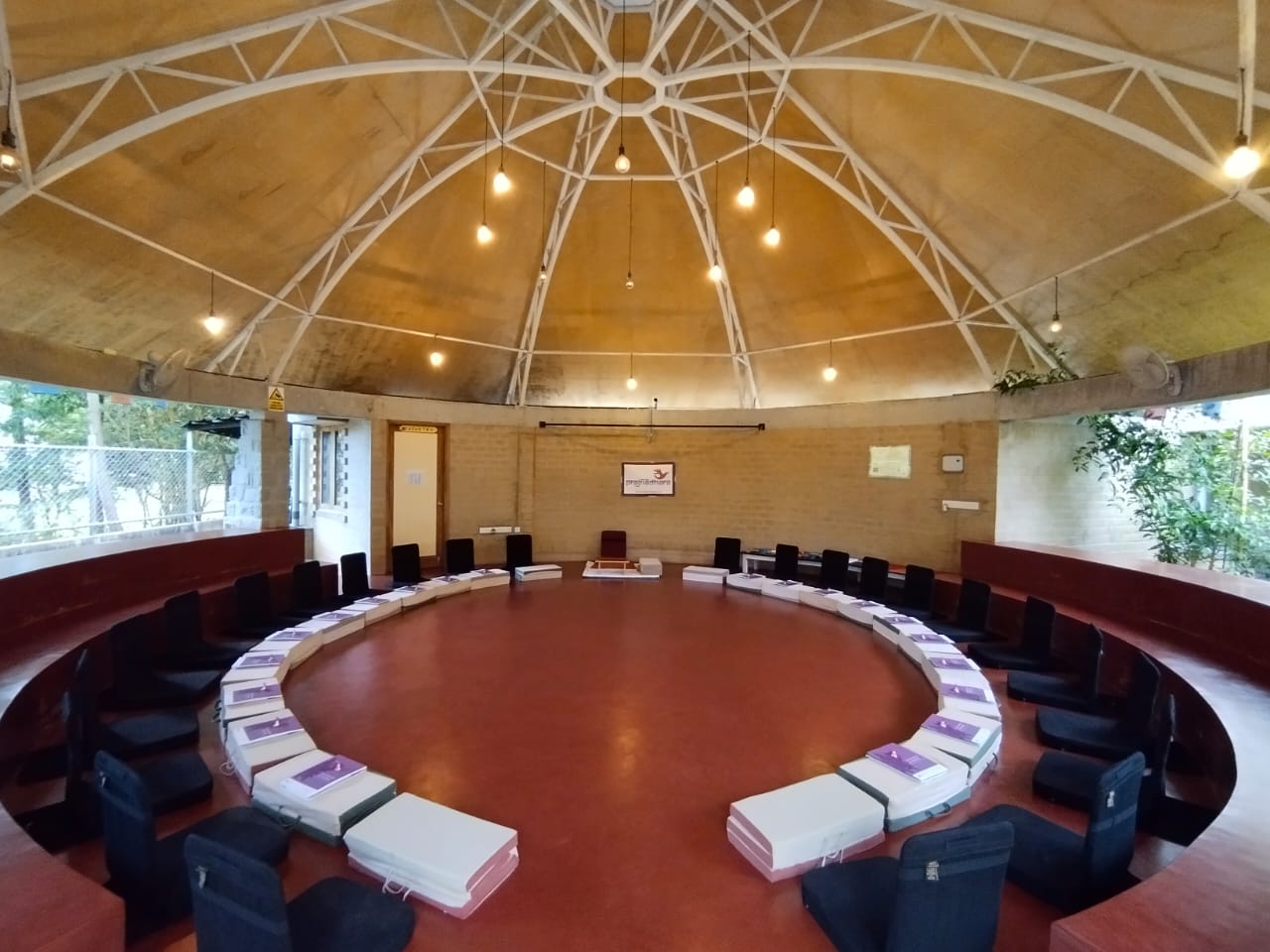 GAZEBO & ACTIVITY ROOMS
The gazebo is an excellent fit for gatherings of 50-75 people that provides an inviting, open space for discourse, seminars and conferences, workshops, artistic performances and the like!
This, coupled with the adjacent activity rooms make for ample room to carry out activities for multiple groups of people.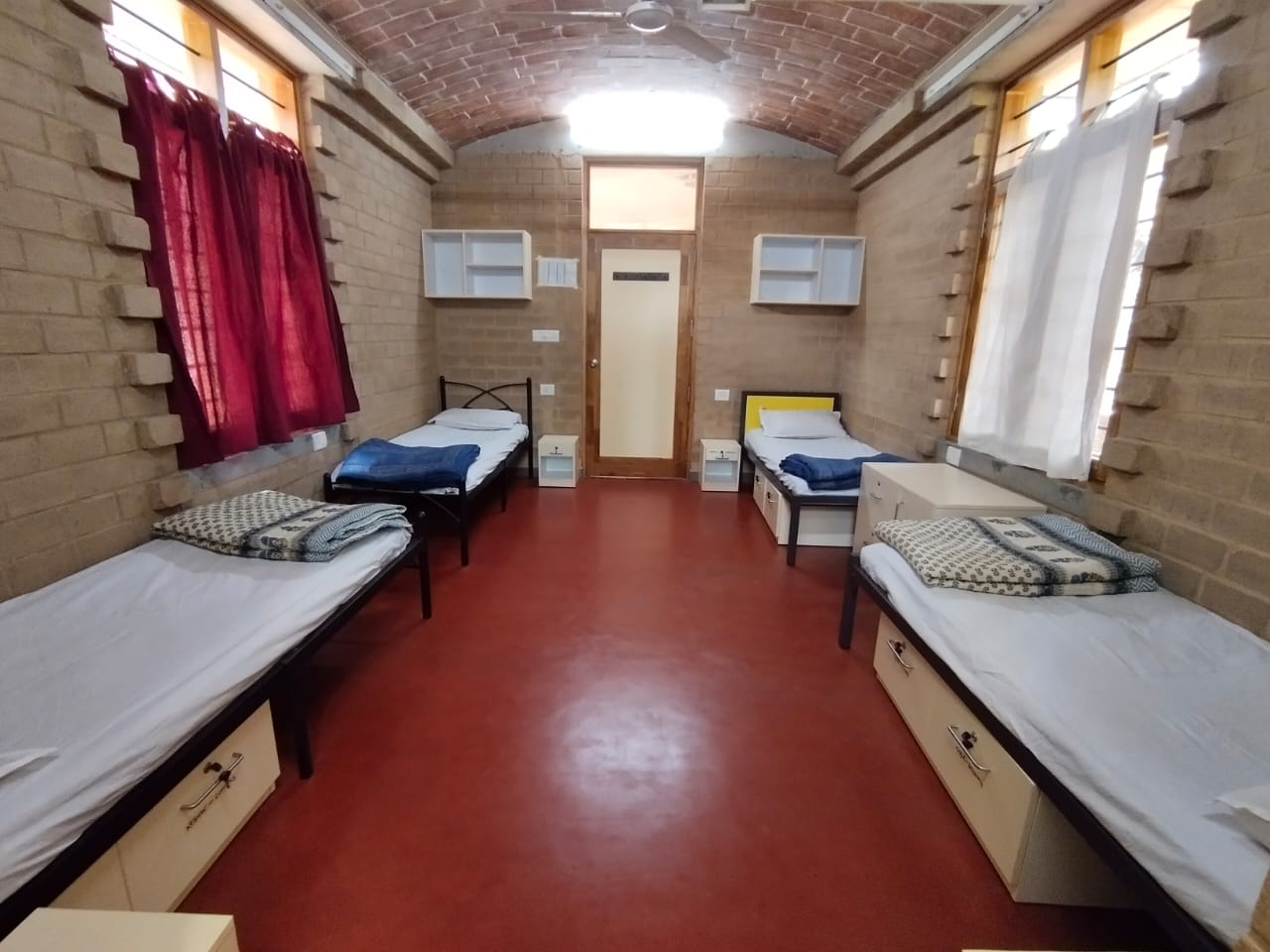 LODGING
The centre comprises 6 spacious bedrooms accommodating a total of 24 individuals, with each room consisting of an ensuite toilet and shower, 4 cots, and shelves with adequate storage space for overnight luggage.
Fitted into each bathroom is also a geyser, providing 24hr access to hot water.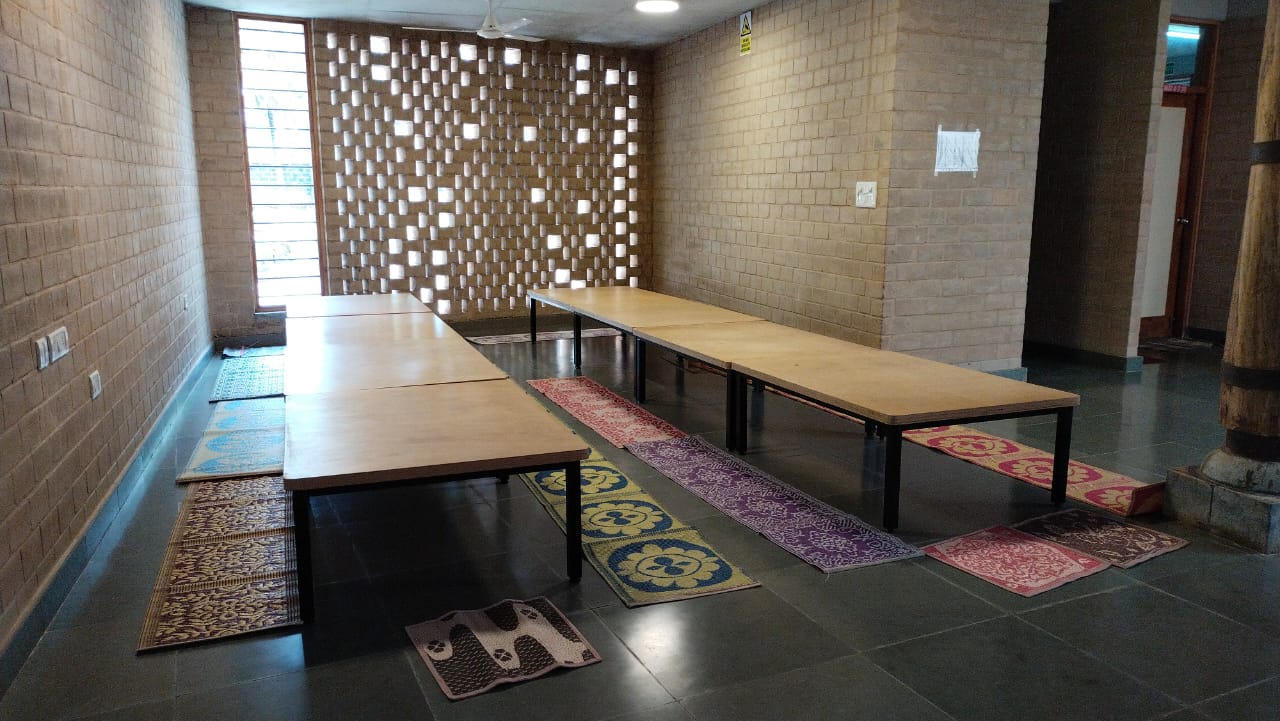 KITCHEN AND DINING AREA
There is a fully functional kitchen and dining area onsite that can comfortably seat 20-25 individuals. In our efforts to remain rooted to our culture and traditional dining practices, we have kept our tables low, which requires the individuals to be seated on the floor while eating.
There are also benches in place for those who are unable to do so.
SHRINE OF SAFETY AND SUCCESS
The centrally located shrine and pond has been created as an homage and ode to the statue of Tara Maa that sits elegantly atop the pond. In Hindu mythology, Tara Maa is believed to be one of the Mahavidyas, or 'Great Wisdom Goddesses' entasked with the protection of the world from evil forces. Similarly, in Buddhism, she is referred to as 'Mother of liberation', signifying virtues success in work and achievements. To that end, Tara Maa watches over all those who enter the space and plays witness to our successes.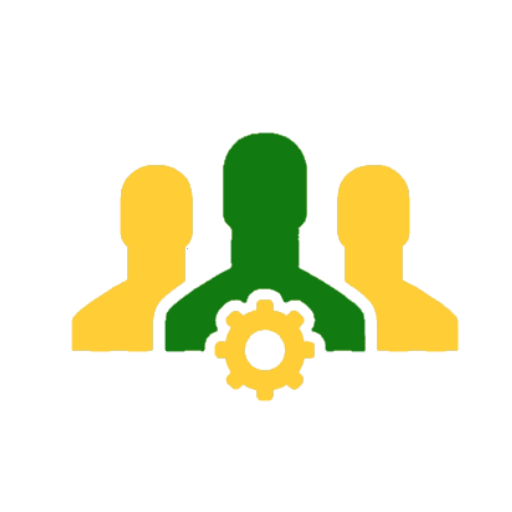 Corporate offsite training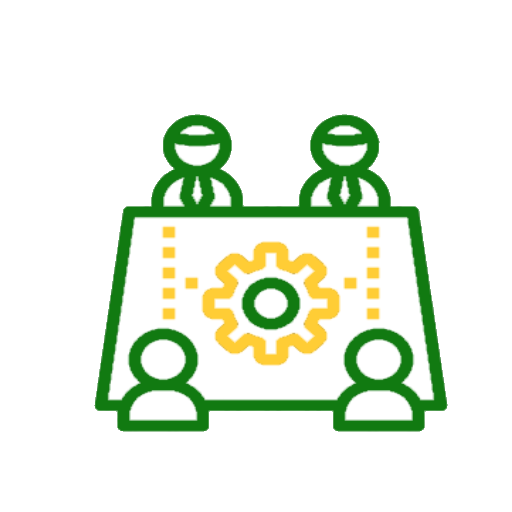 Workshops, conferences, seminars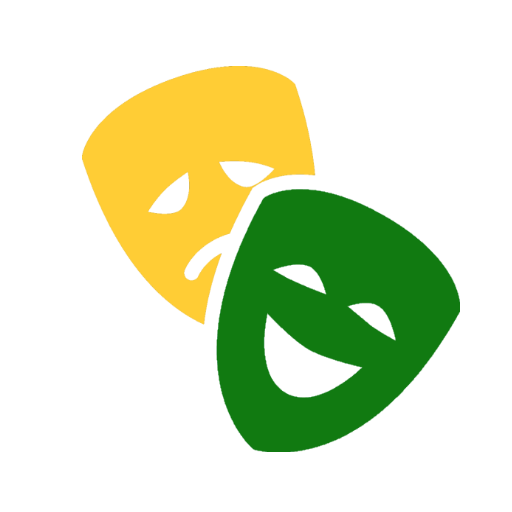 Artists and creative professionals who want to showcase their work / use the space to work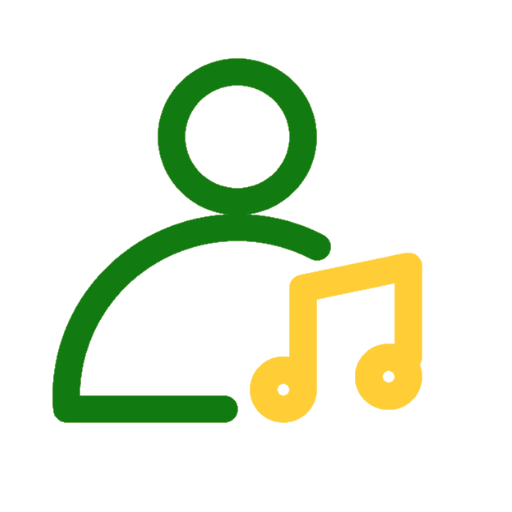 Music and Dance performances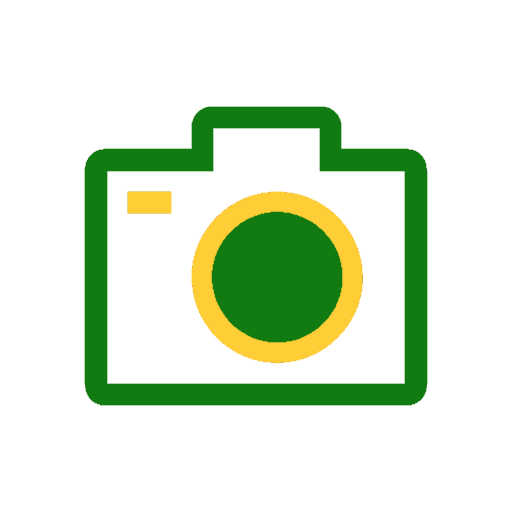 Professional Photo/ Video shoots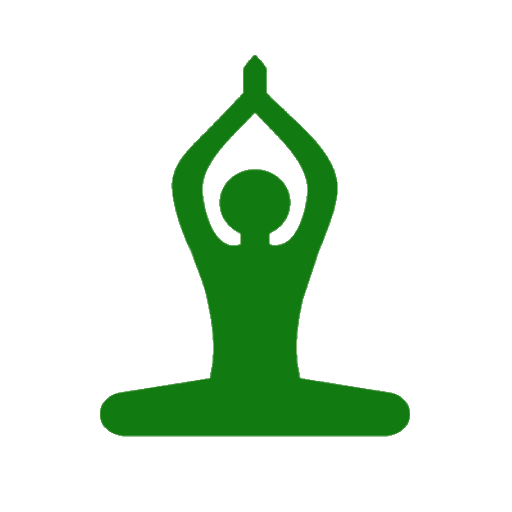 Yoga and Meditation retreats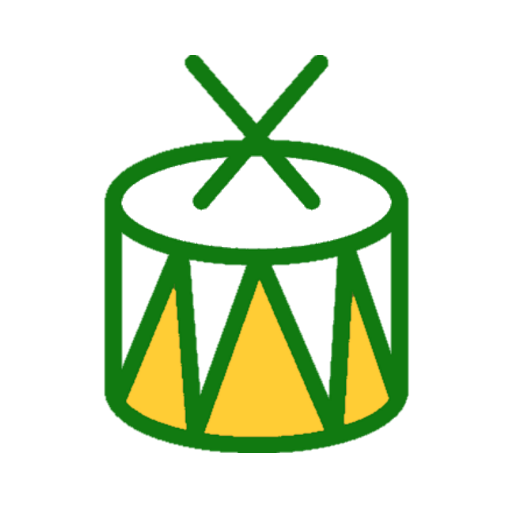 Drum circles and theatre presenations
It was an incredible experience in the lovely Snehadhara where time slowed down and we savoured the experience. There was much laughter and joy. Allowing ourselves to show our vulnerable selves in an environment of great safety, support, empathy & love.