'A Cave Within', Snehadhara's two-day workshop that offered a space of insights to look within as one explores a relationship with the world around.
"The way out is the way within………….
Be filled with wonder
Be touched by peace"

The Cave Within was an experience that can only be felt and not told in words. It was like visiting the deep cave that is within oneself which we otherwise never make an effort to visit.(Shobitha)
As we traverse the self-imposed routines of our lives, layers upon layers of life's complexities are woven in a maze which seems inextricable and one that we feel we can never unravel. The Cave Within brought about the unfolding of a path through symbols for the parents who have busy lives where they only think of their children. To have the pause in their daily life to look within, brought out through art, elicited self-discovery, insight and a curiosity along with enthusiasm to know their own selves.
The inner symbols discovered through a maze of colours represented the path and the exercises brought about a reflective practice, a practice of thinking about their lives, about what that they needed to work on. A forest fire meant for a person to work on anger. A firefly ……A porcupine ………A mushroom bewildered and fascinated the parents bogged down by the day to day routine……The spotted metaphors got played and they stayed within……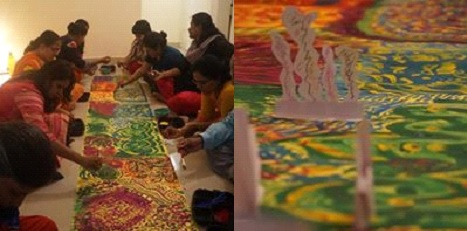 It was amazing to know that colours speak so much about oneself….. I always thought that I am not that creative but it was intriguing to find out that  I could paint something and do all the artwork that Vikram asked us to do…. he actually pushed us to do and think things that we had not ventured before. It was a great learning…… so many new words….new meanings and each of us saw things so differently…..different perspectives and all their perspectives taught something new and I am sure the way we look at ourselves also has changed.   (Sanjana)
The Cave Within was made with a box and chart papers and an inner child was brought about that held the antidote to the obstacles that led to the cave within … The antidote of mindfulness …..To loneliness, it led to a deeply contemplative question.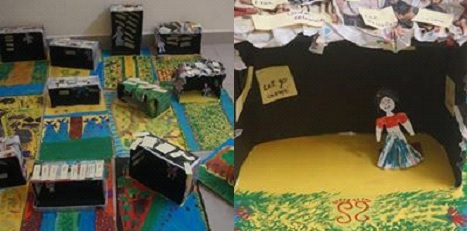 It was an amazing and very liberating experience. Vikram rightly said….only you can help yourself, no one else can.(Sapna)
It helped to probe oneself within and explore one's own self which we generally either ignore or do not give much attention. On the whole, it helped us to remove the veil and recognize our own. (R Krishnamoorthy )
 With deep gratitude, we applaud the participants for allowing themselves and us, into their cave and being a part of this invaluable experience. It is rare for a group to connect so beautifully with each other and with one's own spirit in a crowd. It's with this we understood that the community of parents had started the work on themselves which would lead to a larger, more supportive kinship.
It was fun as well as enlightening in terms of how we should probably be seeing our kids. It also made me connect with parents after listening to whom I felt that although sometimes I may feel I am alone I am not alone. I enjoyed doing the creative work and now I want to explore more of that part of me. (Nandini)