In summer, the song sings itself.
William Carlos Williams
Every year in April, at Snehadhara, we shake up our bag of summer goodies and what emerges is a month full of exciting experiences and tremendous fun. We create new memories of what epitomises Summer Vacations, "Sun drenched days and starlit nights" as the song goes. Summer has often been about visiting friends and relatives and making new friends in new places. This year our Summer School presented Meil Milaap, as the focus of the month of April where we ventured out to each other's homes and other welcoming spaces to share our 'sunful' joy and partake of the generosity of our hosts. We devised a large canvas for ourselves to harness every possible ray of senses to touch and feel and explore; there were songs and dance and paint, lots and lots of paint and colour as well as food in many hues, textures and tantalising tastes.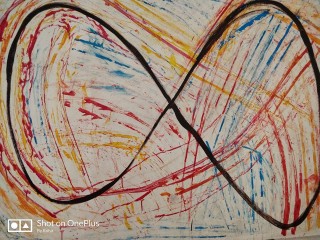 Meil Milaap took off with a keen energy and vibrantly pulsating activity at Snehadhara. Our Summer School illustrated our belief that what we learn outside the classroom is equally and a lot more important than what we learn inside exemplifying our goals of independence for our children. Taking this objective forward one group explored money transactions this summer focussing on currency.  Pursuing this the children of this group visited Lalbagh, Forum Mall, went out for a home visit all the while working out transactions for travel fare as well as purchases. Another group went to shopping complexes, malls, Lalbagh, Madivala market and the mini-forest. As the summer school also promised to live upto its name Meil Milaap in intent and action, for yet another group, it was also about the wonder of rejoicing with our friends through visiting each other's homes, welcoming each other into ours, meeting families and enjoying each other's hospitality.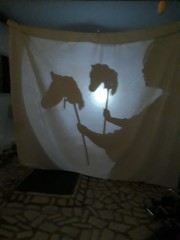 The days were full of fervent action and joyful camaraderie in the intent of Meil Milaap where inclusion was the key and creativity was unlocked skillfully.
This was demonstrated in the 'artful' activities that took over the centre from day one of the summer school. So whether it was adorning our space by creating colourful palates for walls and tables as canvases or doing our bit in upcycling through paper bags or palm painting walls ……..we moved from strength to strength. The palpable sense of excitement was matched with the sheer diversity of activities and action.
Summer School, Meil Milaap was also about making further inroads into the ones that we had already ventured into. The Cafe space kept the focus on end to end …farm to table processes for the children. Group 1 set up a Tuck Shop on each Friday to sell a food item and a craft item to see the continuum, what holds things together as a group and within a process. Our goal of providing experiences with money through real transactions was also realised through the yummy snacks and the vividly coloured envelopes and paper bags that emerged.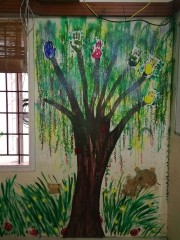 All the groups came together in a very organic way, the centre abuzz with people who took the Meil Milaap very seriously and engaged readily with people, with spaces and with activities that symbolise joy and learning together. Indeed, a continuum of care and compassion.