Oota Thota is our classroom in the kitchen. It is an arena of multiple learning possibilities. It harbours the potential for independence and social interaction. Skill-based knowledge-motor skills, math, science and language all grow within this creative space.
The culinary adventure that started last year with Cafe Obattoo is all set to embark on the next leg of its journey. We started with one group that took it upon itself to create recipes, buy ingredients, learn about pre-cooking skills, cook up the dish and also serve it and sell it in the cafe space. Produce was also harvested from the in-house garden thus demonstrating the cycle from the land to the table. Through the year the group also showed resilience and endurance through preparing lunch for the team as well as running the cafe on the same day. This was a lot of action and tremendous insight into the process of how food comes on our plates.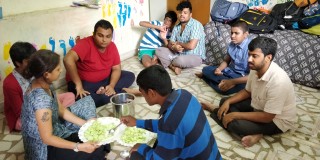 This year with Oota Thota 2018-2019 we wish to bring this experience to all the groups at their pace. Cooking is a part of every group's curriculum for the week. The Cafe group of last year continues with its weekly enterprise of providing us with delicious goodies however their focus shifts to fine-tuning their kitchen skills. They hone their fine motor capabilities and as they chop, peel, cut, slice they do so with a dexterity that leads to independence in the kitchen. The focus is a more entrenched relationship between the tool and the process.
The other groups get ready to don the mantle of the cafe in the future. They are set upon the path to familiarise themselves with the kitchen, its tools and implements, their purpose, the process to use them and finally to pick up the skills in a deeper more concerted manner that leads to the understanding of how a dish is prepared.
Oota Thota this year is about the behind the scenes action, the smaller bits that create a whole, the importance of working on each part that combines to create the final product.