The word 'continuum' means a process which has a distinct start and end, but varying shades of beginnings and endings in between. The 21-day lockdown by the Government of India is but one of those shades in the continuum of compassion and care Snehadhara pledges to offer the children and adults who call Snehadhara their school. Sitting in our respective houses, we may be physically distant, but we are together in our hearts.
Birthday wishes over video conferencing
Today is the birthday of one of our children, Akshita, and we celebrated it with joy and ceremony befitting the occasion –with one exception- we did it through video conferencing! What made the call such a success was the enthusiastic participation of some of Akshita's peers and their parents in the process. One of our facilitators, Divya Sarangan, thoughtfully suggested we all get together dressed in pink (Akshita's favourite colour!) and sing some of her favourite songs – 'yeh mausam ki baarish,' 'cheeni kum,' and 'hawa hawai,' as well as the songs the rest of the children sing in their circle time at the Direct Care centre. Pink balloons marked the background of Divya's living room from where Gitanjali and Sarangan also joined the call.
The call started with 'happy birthday,' and facilitators from Snehadhara, parents and children all joined in to sing. Akshita's parents had made her a chocolate cake and everyone else kept some snacks with them to eat with the group. The icing on the cake was the songs Karthik, Kabir and Swaathi, three exceptionally talented singers among the student group, sang for all of us. What amazed us were the joyous messages and photos from Akshita's peers that parents shared with us later- 'Happy Birthday Akshita!' came from Suvidh who always endears himself with his gentle and sensitive way of being.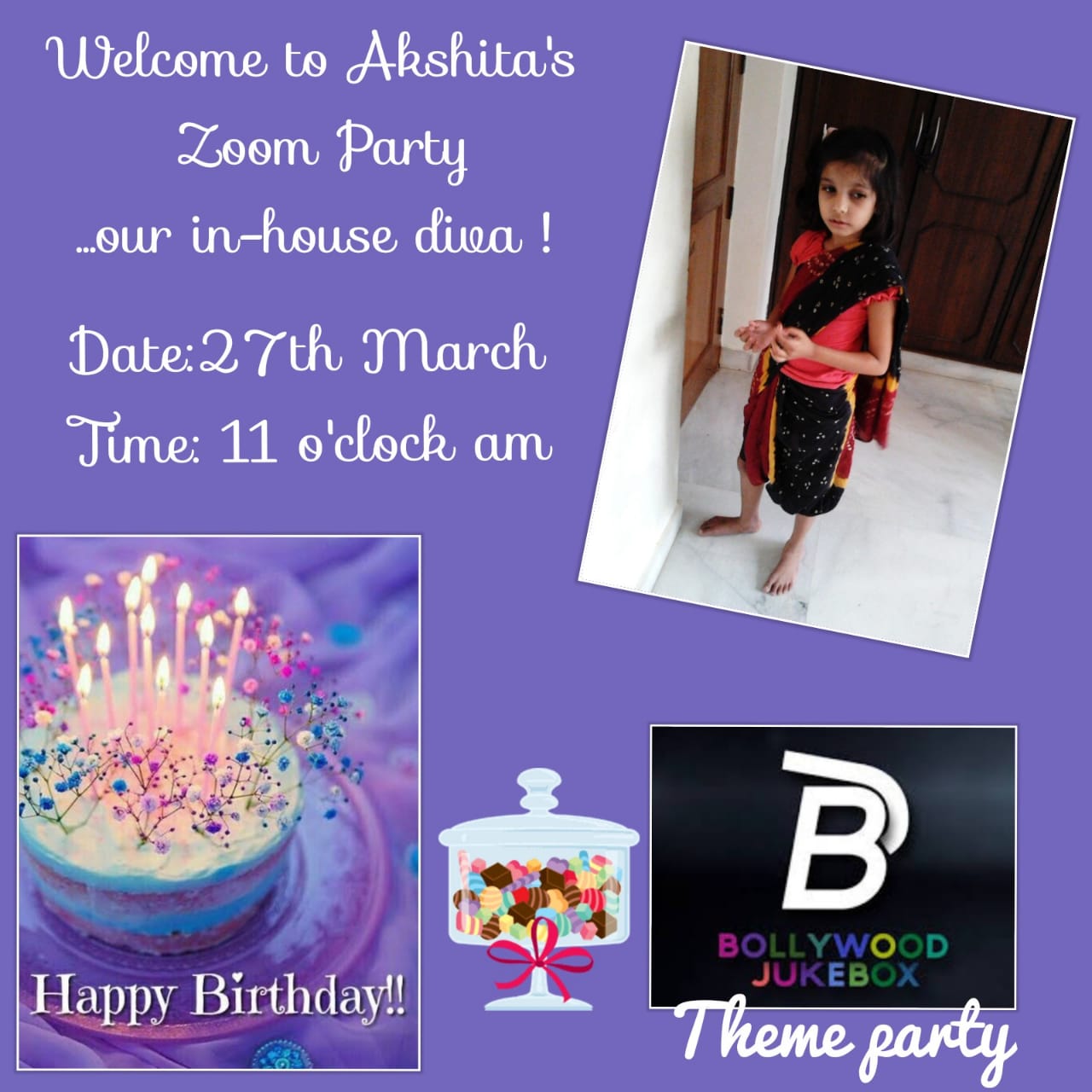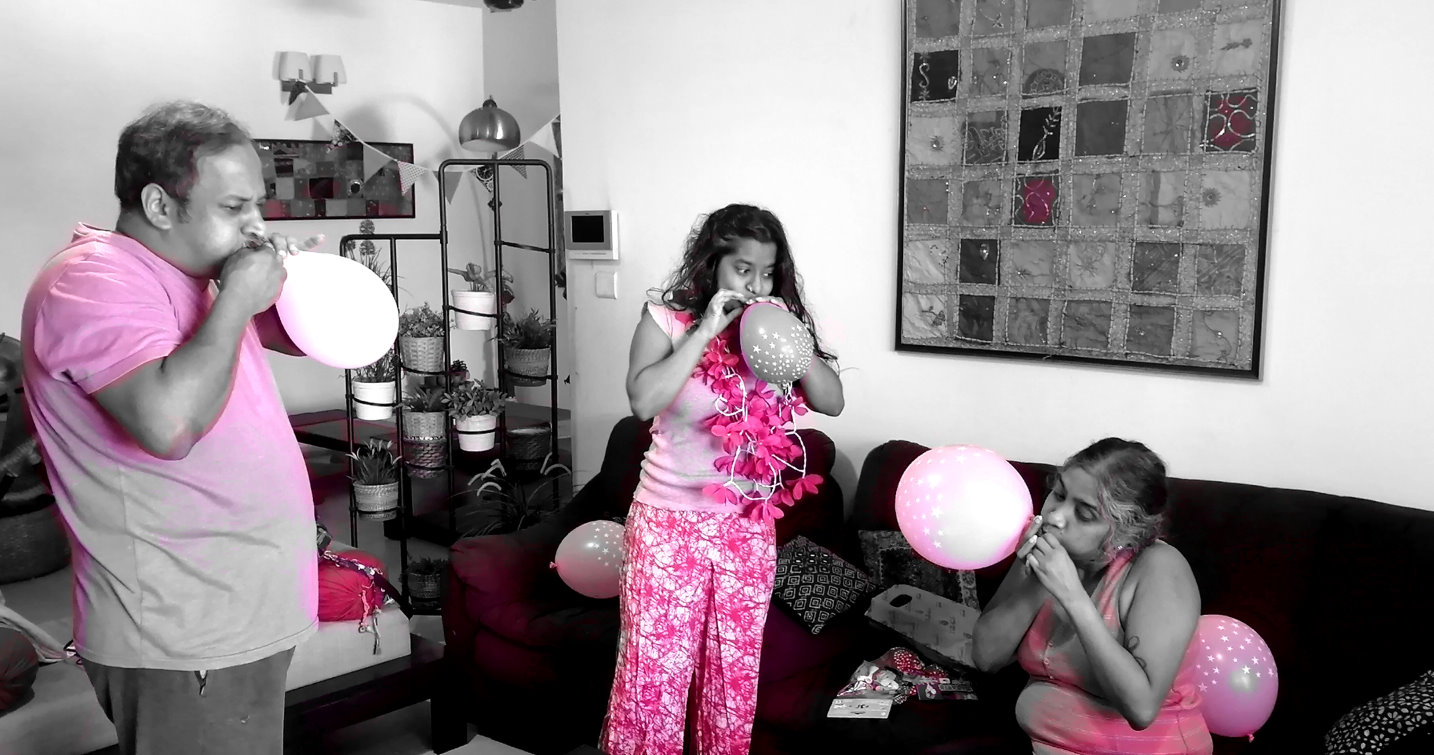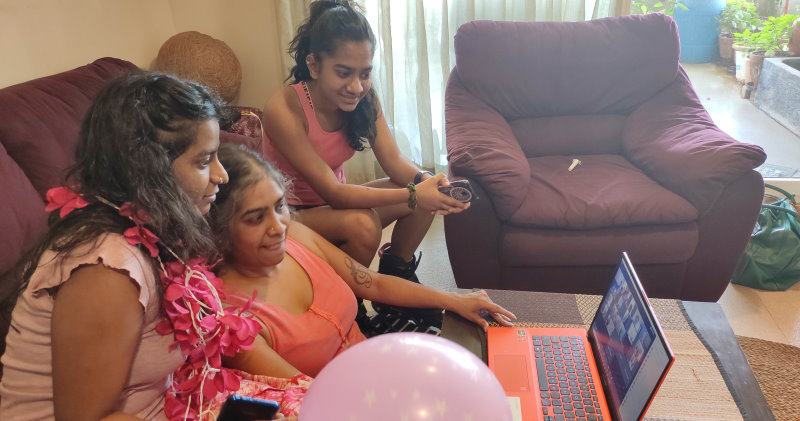 It was sad saying goodbye, but it seemed clear that everyone was thrilled to see each other. The smiles and laughs on the children's faces seemed to show their happiness and excitement at seeing familiar faces and hearing familiar voices. Equally the facilitators' joy of seeing the children's faces was evident. In these times of social distancing, it is these small but satisfying exchanges we manage to have with the children that are important. Certainly, these times are challenging. We at Snehadhara constantly strive to build a sense of inclusion through the arts. We apply the arts to build a sense of inclusion for our students individually as well as in the mainstream spaces we take them to. The children's daily routines at the Direct Care centre involve visiting mainstream spaces like playgrounds, retail shops and each other's houses among other spaces. The children seemed to love being in these spaces and it is sad that we are all bound in closed spaces due to the lockdown.
Continuing sessions with children over video conferencing
To make further strides in the direction of caring and supporting the children in these difficult times, Snehadahara has initiated bi-weekly video conferencing with the children. Each week, facilitators from Snehadhara will call the children to check-in with them and find innovative ways to apply the arts to engage them. Facilitators are channelling their excitement to meet with the children through video by thinking about different artistic ways of connecting. Some facilitators are thinking about singing songs and others about reading stories. But one thing is for sure, at Snehadhara, our arts practices for inclusion start from the student's needs and where our students are at socially and emotionally. Parents have been roped in to make the process easier for the children by explaining that they are on vacation and Snehadhara would like to connect with them through video calls. We have also invited parents to think about connecting the children with their peers through video conferencing.
We do not know in which direction this initiative will take us; but we are committed to facilitate the social and emotional wellbeing of the children. As always, the arts are the bridges we build to connect with the children and include each other in our lives. Social distancing may be the new norm of life as we have known it, but that certainly won't keep us apart in the life we aspire to build together in these unprecedented times.