Watching an artistic performance with friends, teachers and caregivers can be a very enjoyable, yet educational experience. The huddle of attention around the performer, the shared laughter or admiration, the curiosity around the instruments – all together afford a magical time of connection with each other and the arts.
We invite an artist to perform at Snehadhara once every month. The children enjoy these Houseful sessions immensely. For this month's Houseful, Devanathan, a violinist, is our eldest Houseful performer. His tenacious pursuit of mastery in playing the violin started before and continued through Engineering college. He would play for a few hours, travelling great distances in the city of Bombay to pursue his passion. A job after college meant discontinuing the violin. Yet he played on and off, only starting full time four months ago at the age of 72! His passion speaks through his violin, bowing out raaga after raaga in inimitable style! His music was soulful and really spoke to all of us – children, parents and facilitators. It was heart-warming to see our children swaying their heads to the music, clapping and snapping fingers. One of them even imitated Devanathan playing the violin so endearingly! The laughs and smiles on the children's faces were made even brighter by the presence of their parents and siblings sitting beside them and enjoying the music.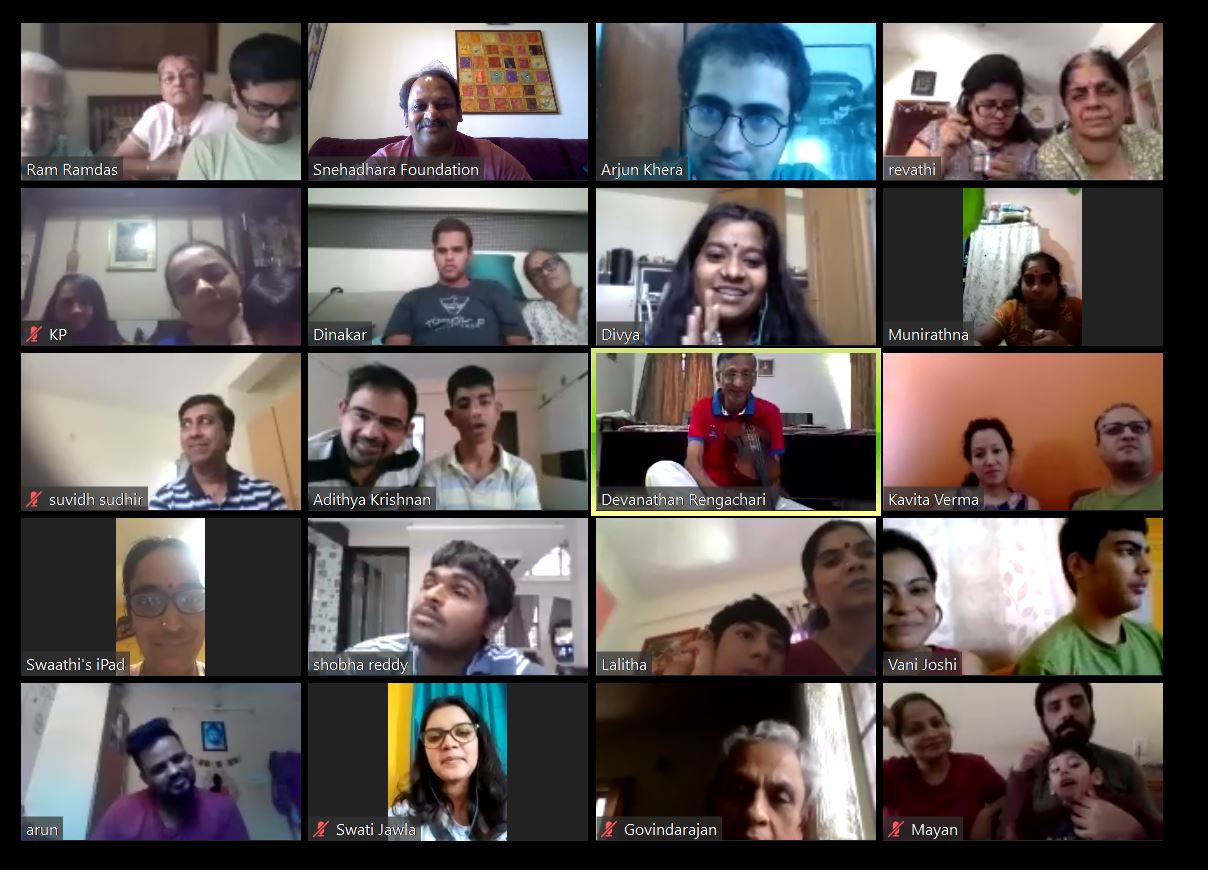 This was a maiden 'e-houseful,' given the countrywide lockdown. But what a houseful it was, seeing that whole families tuned in to enjoy the music! We had many questions and concerns in organising this Houseful- would the children engage in it, would claps and voices distract the artist? But answers magically appeared- the children led the event with their keen participation and claps became air waves which cheered the artist on. A truly inclusive experience, and one that was made magical through the arts!
Snehadhara Foundation will continue to welcome performing artists – musicians, singers, dancers, magicians, actors, storytellers, beat-boxers – who will open new worlds for us through their art. Our attempt through 'Houseful' is to create experiences that allow us to be touched by another's creativity, as well as engage in the process of co-creating an artistic space.