When our Houseful sessions were planned, we looked at giving our children a space to partake in creative experiences, both passively and as engaged listeners. Not wanting them to have to miss out on this during the lockdown, our Houseful sessions moved online… just as most of the world did. Even as we made sense of and processed this "new normal", our eHouseful sessions brought our children, parents and facilitators together, holding us close with all the happy notes.
And before we knew it, Bindhumalini Narayanaswamy came along. Calling her a force of nature is by no means an overstatement. Presenting the July Houseful session in her inimitable style, she took us listeners on a musical journey across the country. Four months into lockdown life and it's safe to say that Bindhumalini should be what the doctor prescribes for our souls.
Quite literally, actually. One of our children who didn't have a good day earlier—feeling unwell thus rendering him in a bad mood—woke up and sat through the session, oftentimes "putting taalam" as they say.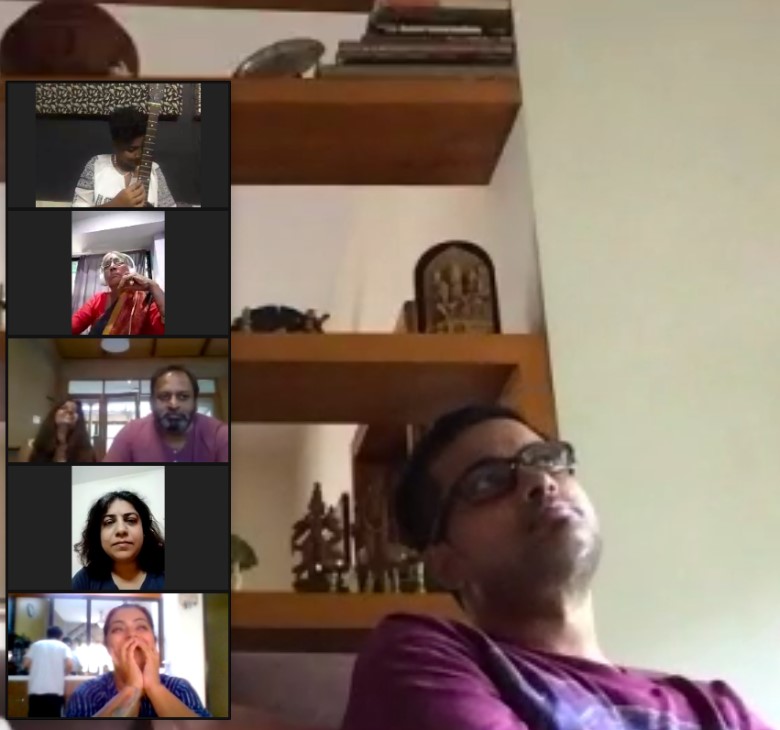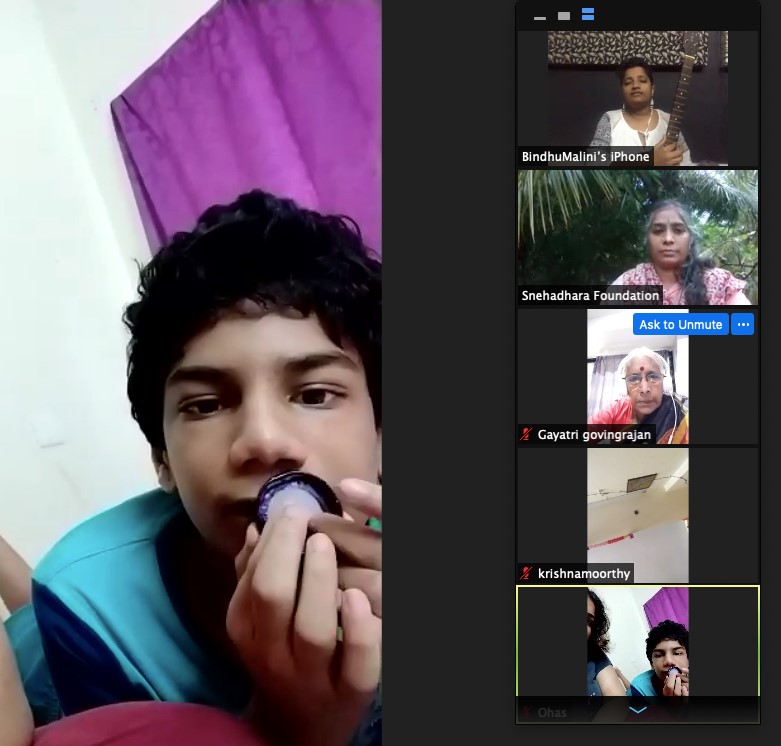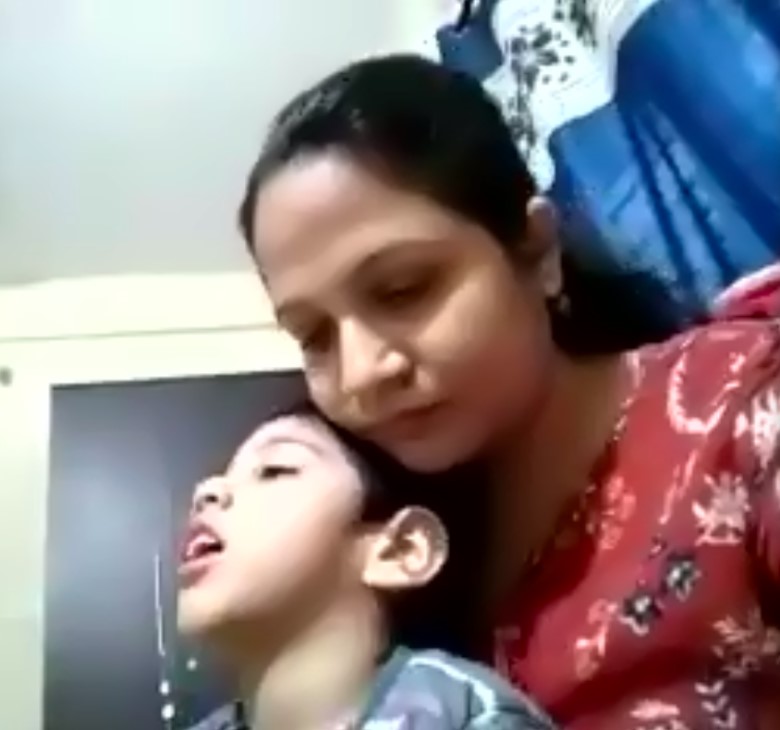 Gitanjali Sarangan, founder, Snehadhara Foundation, succinctly summarised the event, "Bindhumalini's music was beautiful undoubtedly, but it was also transformative and healing in nature."
This healing experience was a visceral, musical travelogue and we were just so lucky to ride shotgun with her. She began her 10-song journey in Tamil Nadu, traversing through Kerala, Andhra Pradesh, Maharashtra, Orissa, Madhya Pradesh and even Kazakhstan, before coming back home to Karnataka. This musical jaunt meandered leisurely through languages and cultures, traditions and musical disciplines, gently breaking barriers of geography and musical pedagogy. So, the works of Sant Tukaram and Bharathiyar among others musically recreated what it feels like to travel, and she finished her beautiful setlist with a performance of her Snehadhara hit song Coffee Coffee. Our children waited excitedly for when she would start to sing this so that they could join in with much merriment.
From divine invocations to melodies of longing, Bindhumalini paid tribute to India's rich cultural heritage, reminding us that no matter how different we are, we're also very alike. No matter what language we speak, we're all alike. No matter where we are, we're all faced by this dreaded virus and lockdowns. The participants of two batches of our online facilitator training programme Digi Akshara too got a chance to experience how one can use this digital medium to create the most unique, engaging and enriching learning experiences.
"Enriching" is definitely most appropriate when one speaks of Bindhumalini's works. The beauty of art lies in how it refuses to be labelled. We may create genres and sub-genres, disciplines and gharanas, but the fluid nature of the arts makes it hard to pin down beyond a point. Just as she straddled genres of music and various classical disciplines, her Gibson banjo went from being a tanpura to a banjo and even a sitar.
A singer who has been trained in both Carnatic and Hindustani music, and hails from a family of illustrious musicians, Bindhumalini takes ownership of musical traditions and reverently takes them in new directions, making even some of the most complex parts of these forms of music easy for the listener to behold and imbibe.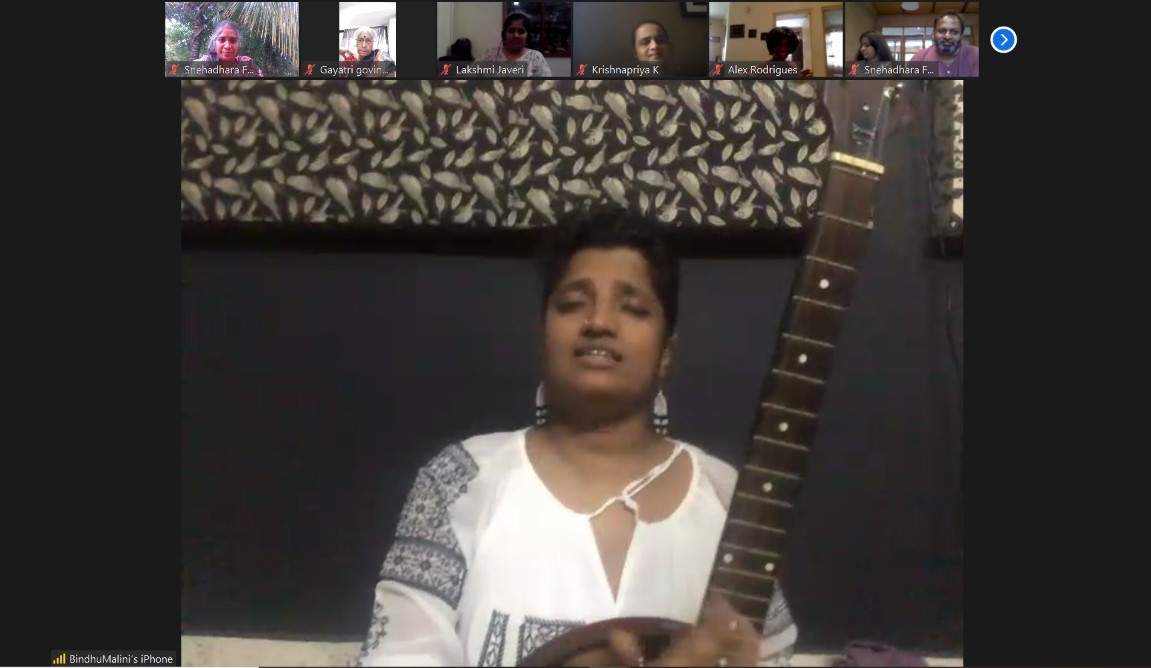 A disciple of Padma Bhushan Ustad Abdul Rashid Khan, who lived in Kolkata and was the oldest exponent of the Gwalior Gharana, Bindhumalini is also the granddaughter of Kalaimani Seetha Doraiswamy. A double graduate in Art and Music, having done her master's in visual communication, she has been surrounded by a whole host of musical influences since a very young age. She is also the recipient of the National Award and the Filmfare Award for her playback singing in 
Nathicharami
, a Kannada film for which she has composed music and sung as well.
Among the greatest honours she's received admittedly is her eternal role in the life of Snehadhara Foundation. Our music and activity hall has been named Bindhumalini, and just as she's named after a raga, so has she contributed in naming spaces in our Nellamangala campus after different ragas. After today's Houseful session, this raga personified will reverberate through our walls till eternity.