For an hour on Friday, Sneha Kappanna held the Snehadhara family in rapt attention. Billed on our website's Events section as a pioneer in bridging the nuances of tradition, theatre, dance and culture, Sneha effortlessly demonstrated why. Her carefully curated session was a lesson in India's rich heritage that brought tribal India to Snehadhara Foundations monthly eHouseful session. Sneha and her team of dancers presented a short recital that touched upon some of India's prolific dance legacies, both classical and folk.
The evening's proceedings opened with a robust Bharat Natyam performance, setting the tone and rhythm for the rest of the dances. Sneha interspersed the performances with interactive and informative narration that deconstructed the complexities of dance, to its purest form and purpose: Joy. Against the backdrop of the times we find ourselves in, Sneha's enthusiastic narration and curation served to remind us that there's still so much happiness around us that we can harness.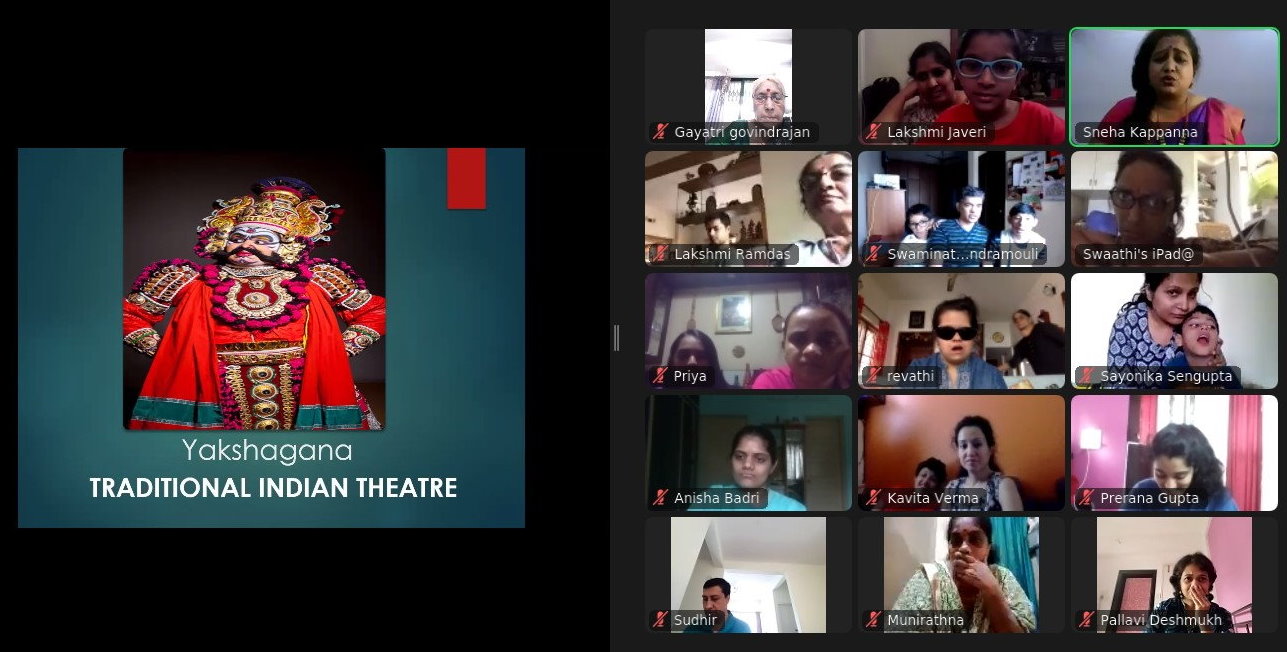 A Bharatnatyam exponent, Sneha wears as many hats as a dancer wears her expressions. She is also an actor, a celebrated storyteller, folk-dance expert, researcher, and acclaimed choreographer. Among her many achievements is a tireless drive to engage with dying folk cultures, documenting and creating awareness about them, while simultaneously shattering myths and stereotypes. She's the first woman to have learnt several dying folk dance forms from Karnataka that have traditionally been the preserve of men. A big part of her passion stems from the need to ensure that cultures live in perpetuity. And so, her work has involved researching, documenting, and reviving folk dances, while also ensuring that they are passed down to the next generations.
It's no surprise then that she picked Karnataka's famed folk dance-theatre form Yakshagana to be the second performance of the evening. With fascinating trivia about the weight of the costume to a quick PPT to elucidate the glory of the dance form, Sneha eased the viewers into her next troupe member's Yakshagana performance. Sneha is the co-founder of "Katha Corner" which focuses on storytelling and children's theatre, while collaborating Bal Bhavan, Indira Gandhi National Center for Arts and Nrutyagram. Despite being an expert in some of the dance forms presented, her earnest and unaffected style of making dance accessible to everyone, slowly turned us from passive consumers of the session, to active ones. And she has tremendous experience in doing so as well!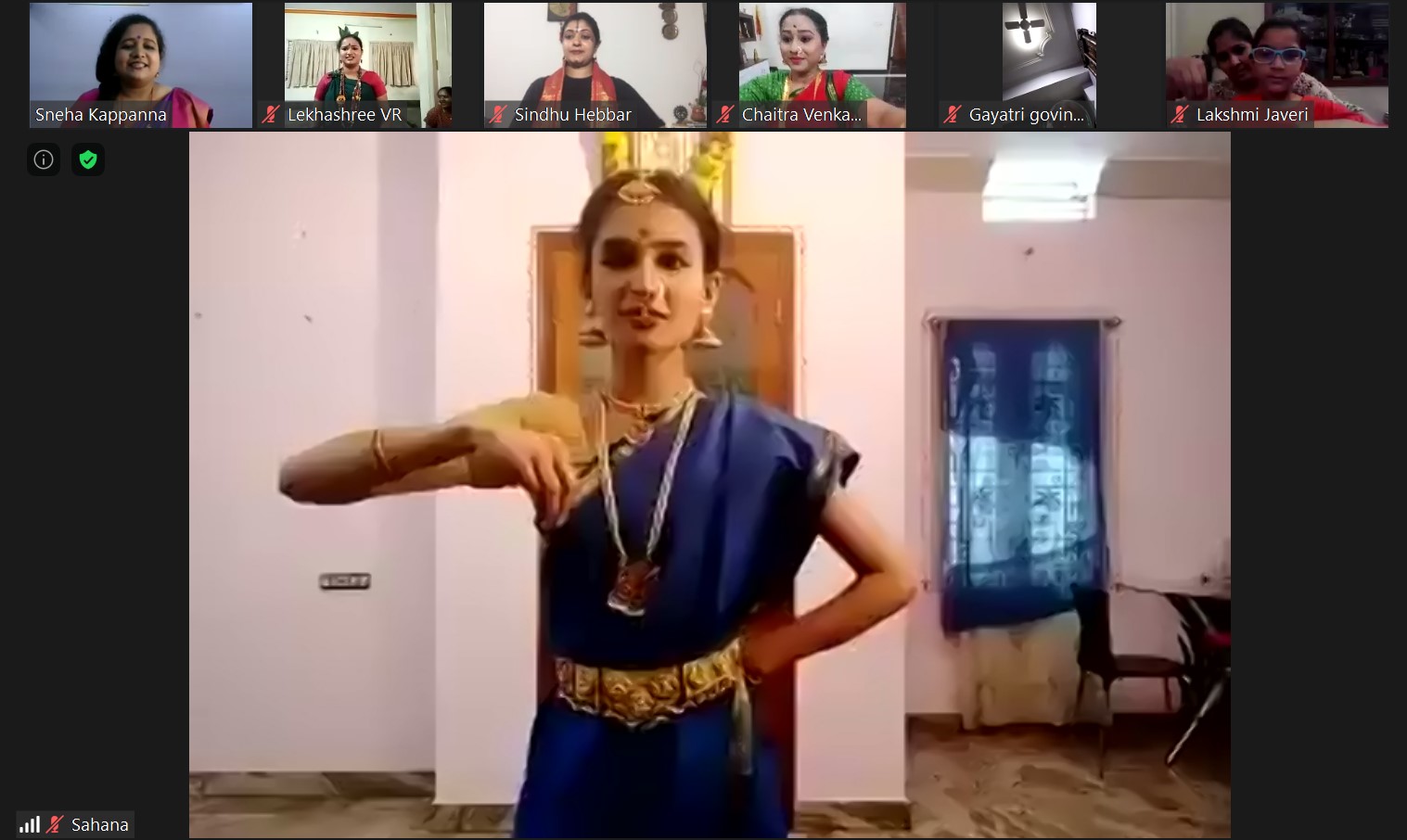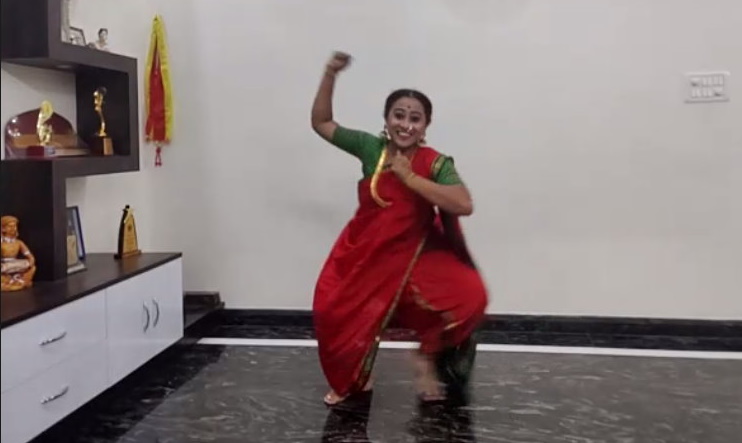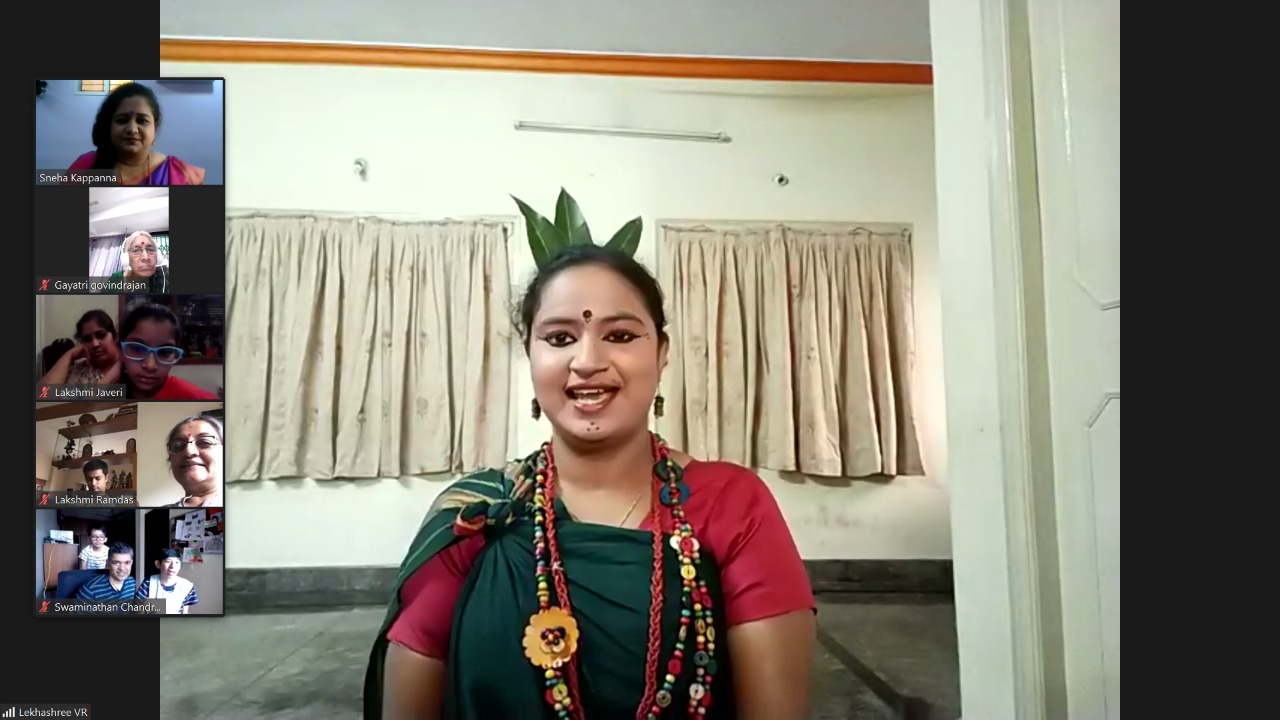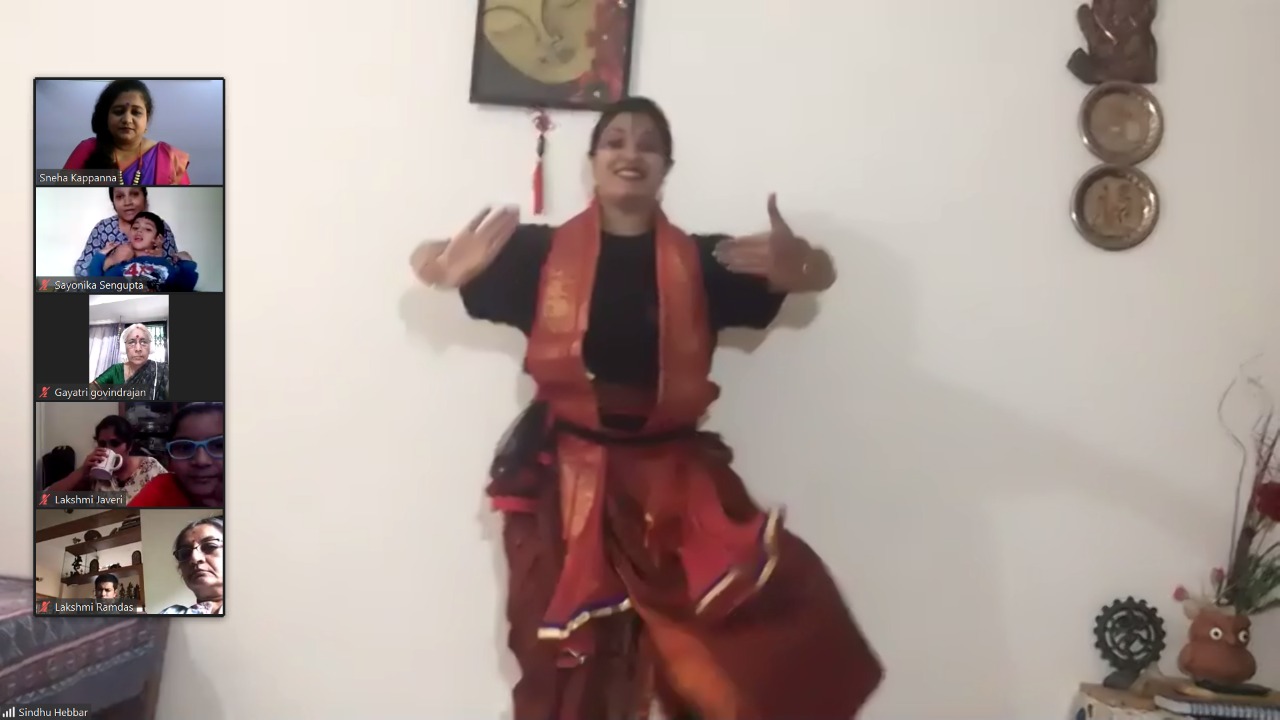 Sneha is the founder-director of the Bhramari Dance Repertoire, which has completed over 600 shows. The troupe won accolades for performances at New Delhi, Haryana, Faridabad, Jaipur, Kolkata, Chennai, Odisha and Mumbai. She has choreographed over 30 thematic dance productions such as Manujamatha Vishwapatha, Sharanu Janapada, and Prakruthi Samskruthi among others.
As executive director for Kappanna Angala – an intimate auditorium in Bengaluru – she curates monthly classical initiatives such as "Nruthyabhanu", "Alaap", the "Neepathya" series of workshops for performers and the "Tayiberu" workshop on folk tradition. Drawing from her extensive work in the field, she chose the third performance to be a dance of the Soliga tribes. Her delightful narration was unassuming yet by the end of it, we were all yearning for more.
The final performance was an energetic Lavani (Maharashtra) number that left us tapping our feet and masking our involuntary hip movements! In just four songs, Sneha showed us how to read a dancer, feel the music and ignore the words. This resonated with the Snehadhara ethos where much of our world is non-verbal. Students were seen trying to emulate her hand gestures, some tapping to the rhythm… each inadvertently reiterating how dance is beyond the confines of language. Dance is an emotion, a feeling, a way of life. And going by Sneha's renditions, dance documents us eternally.