India Inclusion Foundation has chosen to mingle and converse with the team at Snehadhara Foundation to explore synergies and combine our efforts to build a community centred on the ethos of inclusion, simply by virtue of presence and recognition. That's all it takes, to understand that each one is good at something, regardless of their abilities, sex, caste, religion, or any other system of classification that has fragmented our society. India Inclusion Summit seeks to create an Inclusive India by 2030 and we at SF are ecstatic to work towards that goal together!
Today we met with the winners of Art for Inclusion (AFI 2019), a group of 8 individuals with special needs who are exemplary visual artists and Mr. Ferose, the founder of India Inclusion Summit and his team of volunteers Ghansu, Karthik, Priyanka and Manas. The Art for Inclusion (AFI), an initiative of IIS, is of particular interest to us as it aims to spotlight the abilities of artists with special needs. It provides the artists an avenue to connect with the larger community and show that there is more than what meets the eye; that they are not bound by their disabilities. In turn, the public has the opportunity to witness the brilliance of these artists and mould its perspective of society to one that holds inclusion at its core. The AFI in Conversation Series is started recently as part of AFI Community Engagement initiative.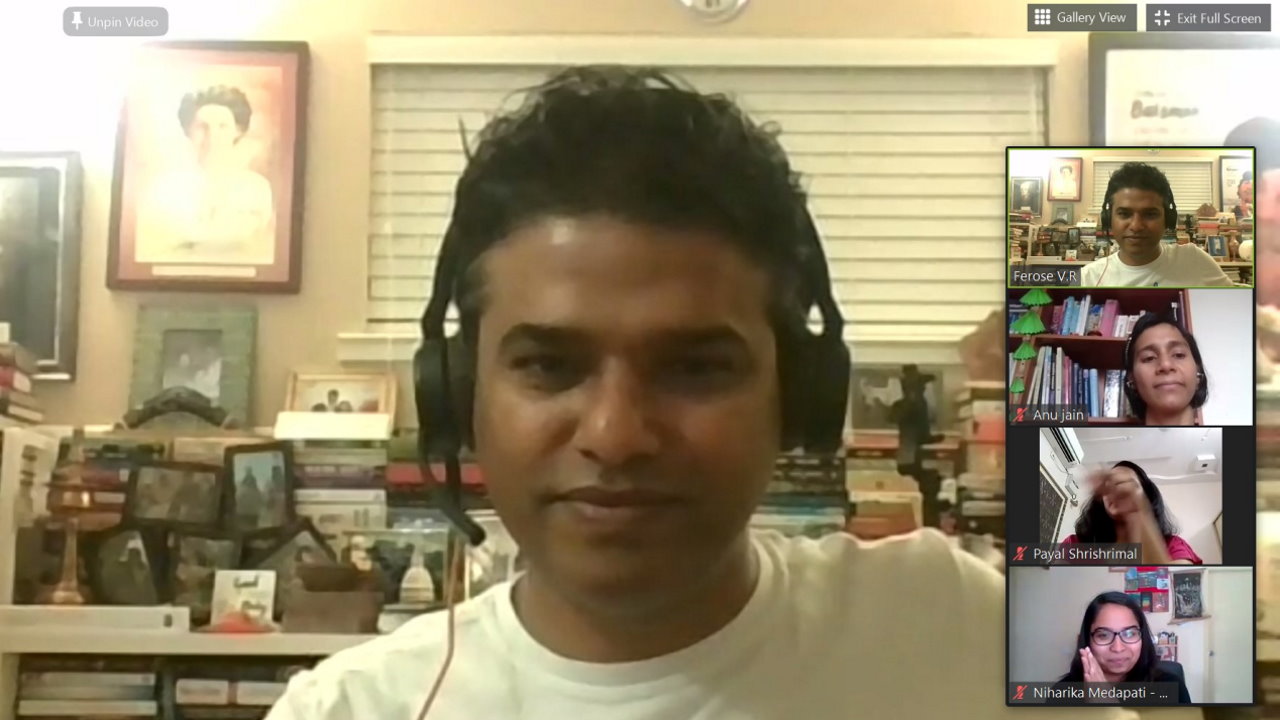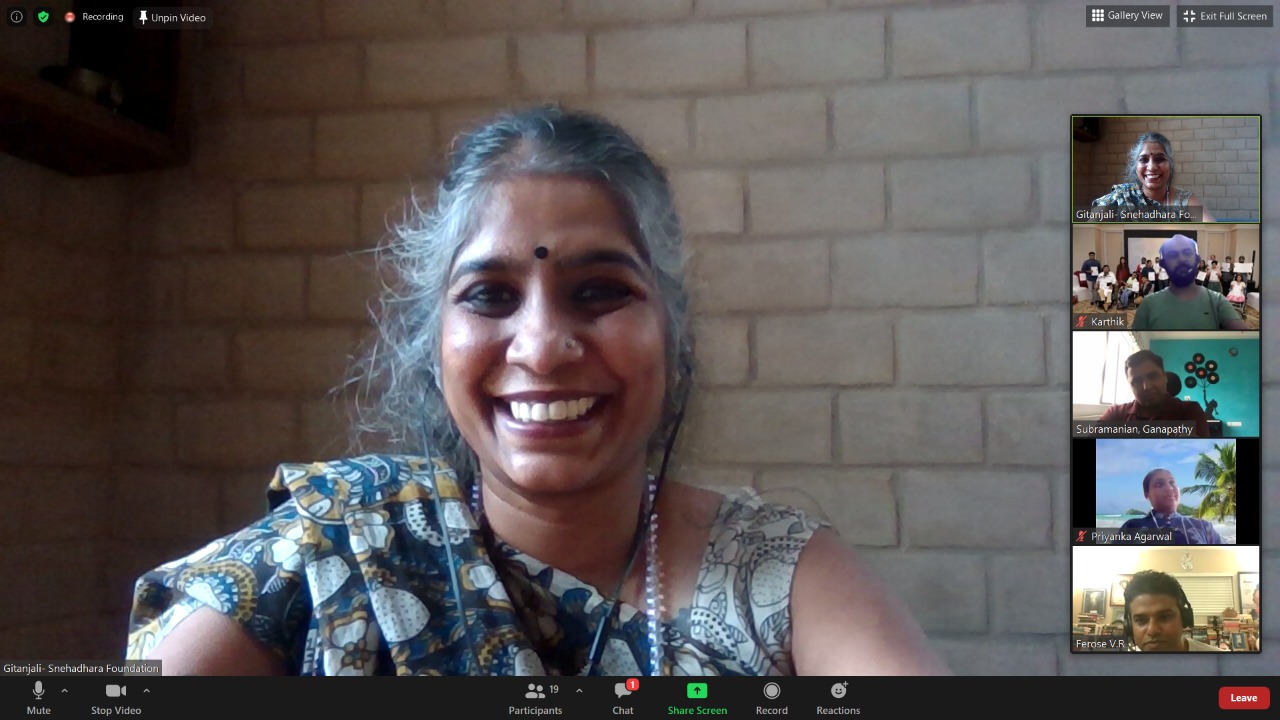 It was a wholesome experience during which they were acquainted with the way sessions are conducted at Snehadhara and we learnt of their journeys thus far. It began with a musical introduction that gradually took on a theme of nationality and togetherness, and was followed by a calming and soulful movement exercise that had us painting with our hands as the brush and the air as our blank canvas, all the while listening to soothing music that blended with the ambience. The session ended with a question and answer session where many of the artists expressed their interest to visit our campus or complete one of our programmes, and we welcomed them with open arms. There were also moments of doubt and genuine curiosity of how we can achieve such a huge feat but these were extinguished with inspiring words and support from the others in the group.
This experience has afforded us the chance to highlight our respective approaches to inclusion, explore possibilities of entrepreneurship and expand our family to include the volunteers and artists from India Inclusion Summit. Words really do fall short of the sense of belonging we shared during the course of the hour, which flew by too fast. IIF and SF will work hand in hand to inspire our families and loved ones through our initiatives. We as facilitators, being in conversation with the artists, have certainly discovered better ways of engaging with our children by exchanging perspectives and ideas.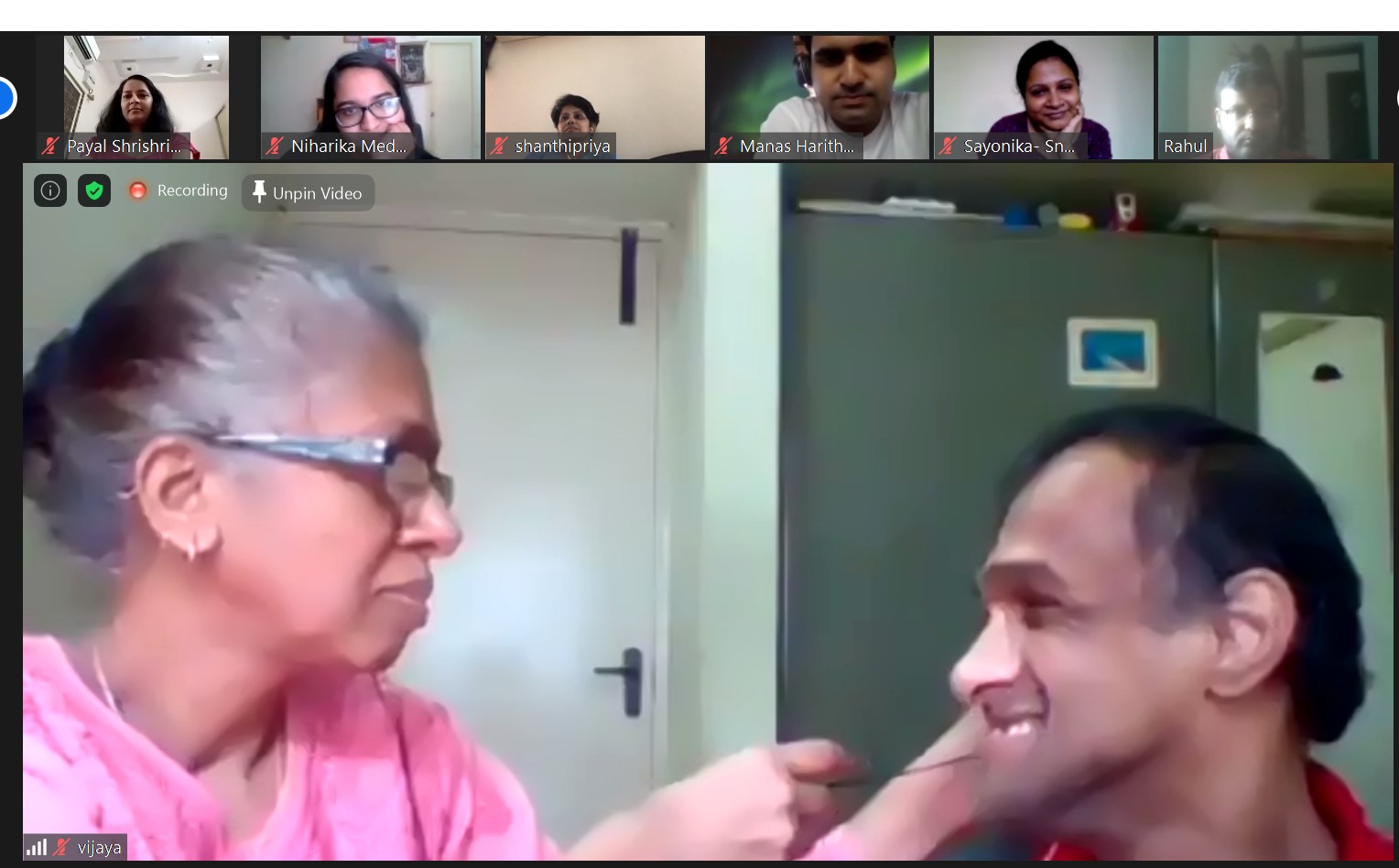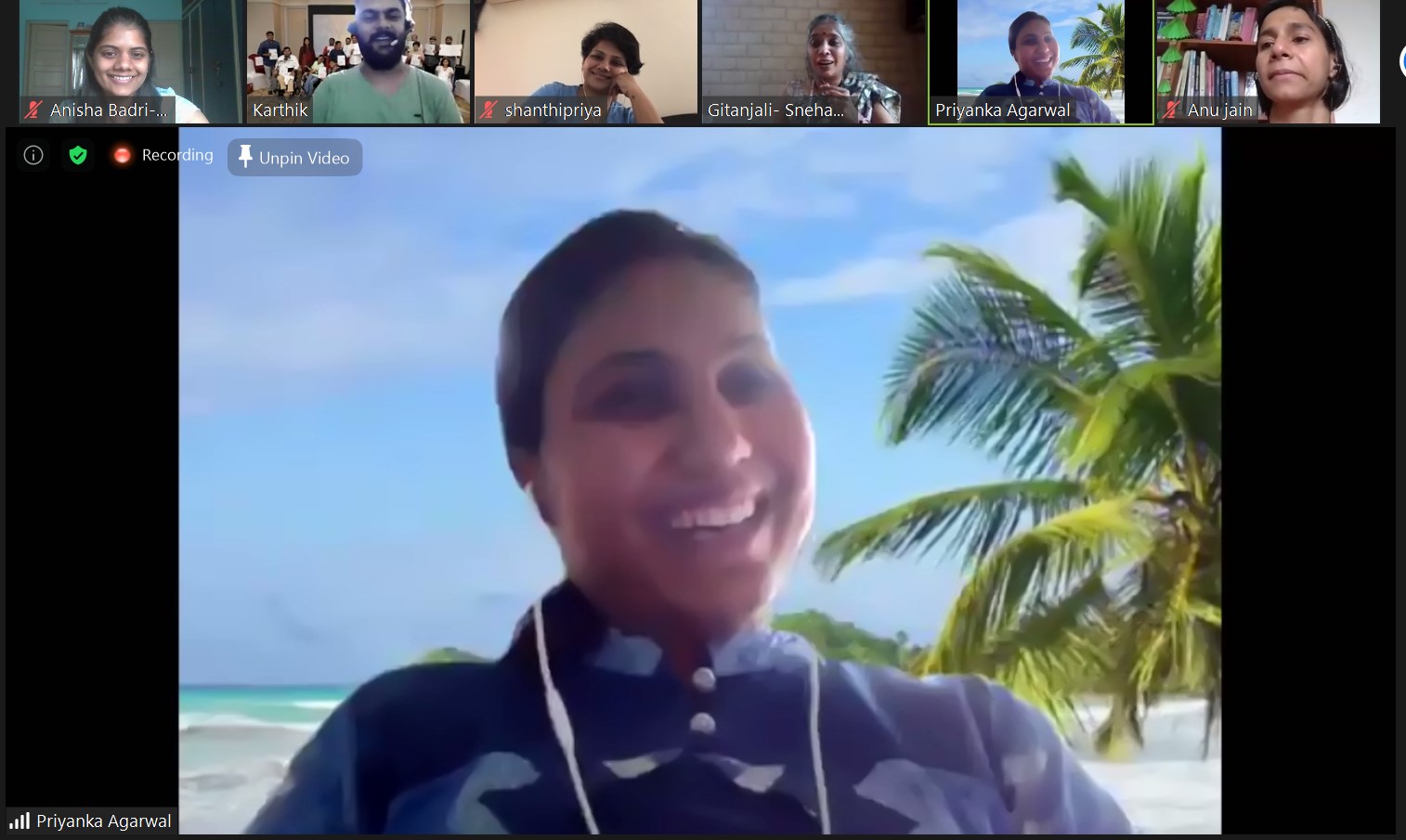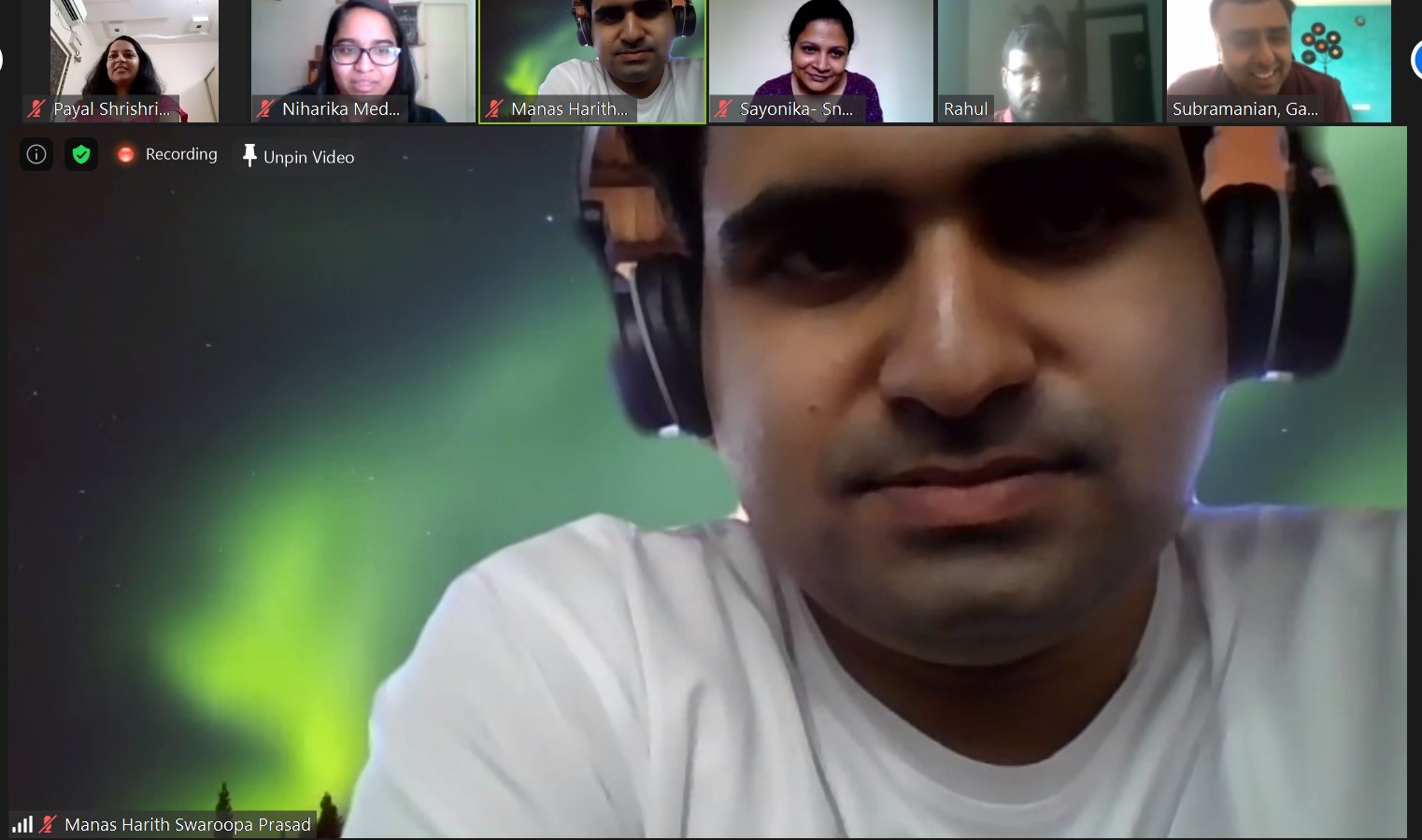 Do stay connected to the work of these Artists
As a strategy, Snehadhara Foundation is very action oriented and works hard at building the ecosystem to sustain the ongoing efforts to use Arts. Our Direct Care acts as our research crucible and all the learnings are packaged and rolled out as a programme that creates trained manpower to support usage of the Arts to build inclusion. This is what led to our formulating the first of its kind "Arts Practices for Inclusion" certification programme which will roll out in Feb 2021. This is our flagship effort and we are looking at taking this worldwide. Our efforts have been lauded, recognised and supported with funding by the Millenium Alliance to take this to Nepal. We were invited to run some short capsule sessions in Argentina, Brazil and Qatar for these.
The Arts Practices for Inclusion certificate course teaches students to apply arts practices such as drama,visual art, music, play, movement, and dance to create a sense of togetherness and belonging between people and communities. API evokes such feelings by facilitating social and emotional health of people and communities in an intersectional way between neurodiverse and neurotypical communities. We are hopeful this will allow society at large to access compassion and empathy which is inherently present.
We are in exciting times and are very enthused to keep pushing the boundaries to be the torch bearer for using Arts as a medium.