After travelling around the country for 8 weeks we wanted to wrap it all up with a celebratory bash and made arrangements for what turned out to be a fantastic four day Utsav. We were giddy with excitement to roll it out and it was quite surreal when the actual event was far better than all the fun we had imagined we would have.
It was wonderful to have each day dedicated to different aspects of our culture with their own fancy titles. On the first day, with 'Dawat-e-Ishq- Exploring Unforgettable Flavours', we were hovering over the stove in our respective kitchens, and watching everyone – we mean everyone – assembling and cooking together virtually made it so special. We had two delightful sessions where the group jointly made Raj Kachoris and Modaks while donning our specially designed chef hats in our attempts to get into character for the day. Everything looked so inviting that many people – adults included – couldn't help but break the rule of not eating the ingredients or the main dish before it was served! There was such joy emanating from the process of creating those dishes surrounded by family and friends; pouring our hearts and souls into it along with all the chutneys, ghee, and jaggery, only for it to be devoured in a second!
Dancing along to region-specific music, reciting cinematic lines with props to match, and traversing the lands through the magic of movement made for one exhilarating experience the next day. Titled ' Musafir Hoon Yaaron- Exploring Colourful Cultures on the roads best travelled', Day 2 of our Utsav had us reliving the highlights of our Summer School and evoking our inner Musafirs to bask in the cultural glory of each region along with friends and family. We stepped on the shores of Kerala, danced to Jimkki Kamal and recited famous Malayalam dialogues. Then, the classic boat song 'Kuttanaadan Punjayile' played in the background as we bid farewell to the state and made our way to Maharashtra. Whilst there, no one could resist the call of 'English Shikvun Soda Mala' and grooved to it with impromptu Lavani steps. After that, we had some mouth-watering snacks (Batata vada, anyone?!) downed with some Kokum sharbat and aamrakhand. Over in West Bengal, we all adopted Bengali aliases and immersed ourselves in Rabindra Sangeet and different folk music of the state. We then flew to Assam, relished some refreshing tea, and revised the Bihu dance. Post lunch, we took the magic tram halfway and then trekked along the snow capped mountains, first to Uttarakhand, dressed up with props and learnt some phrases in Garhwali. We then climbed farther up towards Jammu and Kashmir and enjoyed a soiree with chitchat in the native tongue; legs bouncing and heads bobbing to catchy Kashmiri tunes. The day's celebration ended with our descent to Rajasthan and finally down to Gujarat, with beautiful skirts spinning in the air as we twisted and twirled during the Ghoomar and Dandiya dances.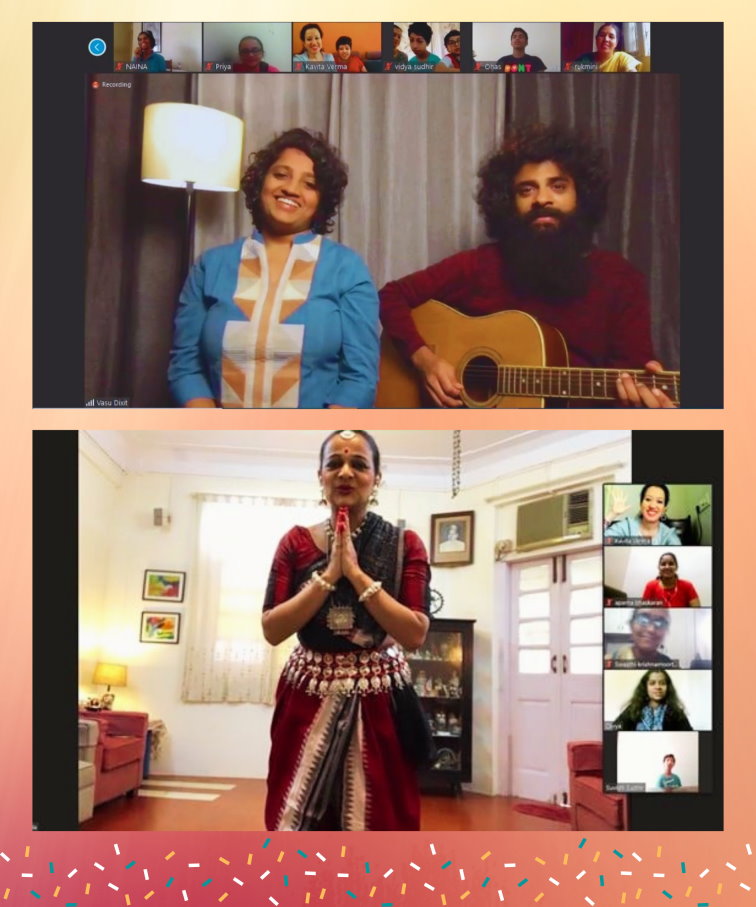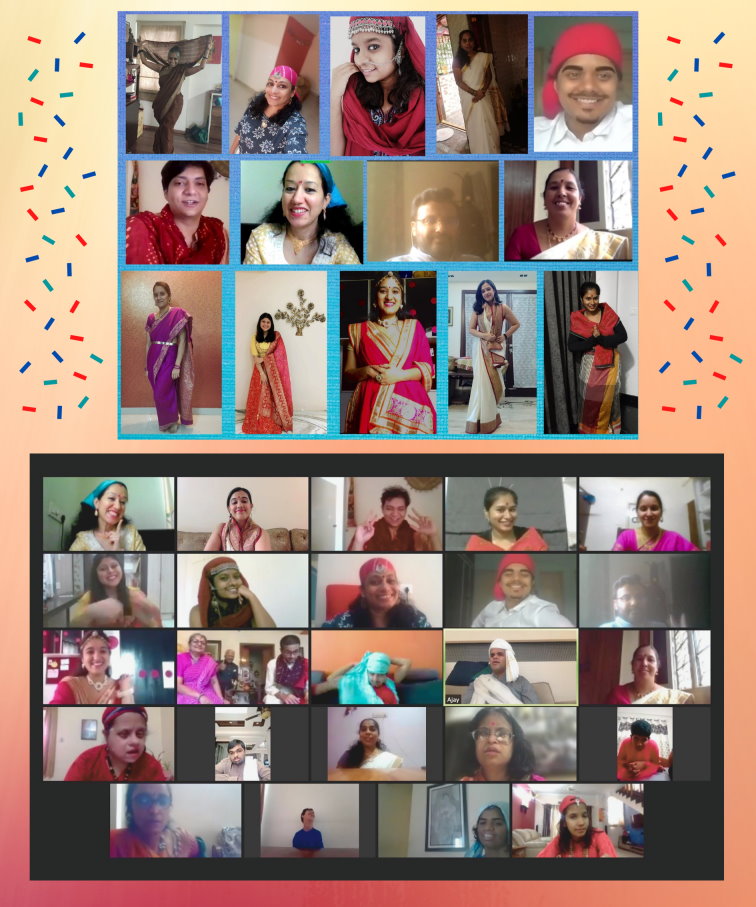 On the third day, or as we called it 'Ready Set Go!-Put your best foot forward', we dressed up in traditional attire of different states, dolled up in saris, lehengas, kurtas – the whole shebang. It was incredible! The first half of the day was dedicated to red carpet like interviews regarding our attire, the state we were representing, and trivia about it along with some phrases in the local dialects. At the end, there was a ramp walk and it was so lovely to see everyone in their gorgeous apparel. Not to forget, we recreated our version of KBC which was incredible in every aspect; outlandish and witty options, whimsical ads, and of course, banter! This was a sure shot way of getting us to remember all that we have learnt during our summer school in the most entertaining manner possible.
Saving the best for last, we ended the Utsav on a graceful and musical note with 'Dastaan – E- Saaz: Kahaaniyon Ke Jahaan Me Suron Ki Zubani. We had the pleasure of being in the company of distinguished artists and witnessing their exemplary performances. Dr. Prachi Jariwala, a classical Indian dancer, blew us away with her Panchatantra narration though Odissi. Dr. Jariwala has rendered performances in India and abroad, and prides herself in being a renowned dancer and art historian. Her expressions and enthusiasm captivated us throughout and our eyes remained transfixed; marvelling at how effortlessly she narrated the story and depicted various elements through dance. Learning simple steps and mudras to show animals and convey a sentence through Odissi were also fun and engaging activities that we had the chance to partake in. We definitely hope to catch her live performance someday! In the afternoon, Vasu and Bindhumalini captured our hearts with their melodious voices and humour. Vasu Dixit and Bindhumalini Narayanaswamy, two renowned and accomplished composers and singers well versed in Indian classical and folk music sang songs from various languages and took us on a tour across the country via their music. They have each made a name for themselves and continue to produce soul-stirring music that moves the audience – which we were lucky to experience for ourselves. It was the perfect way to bring our week of entertainment and festivities to a closure.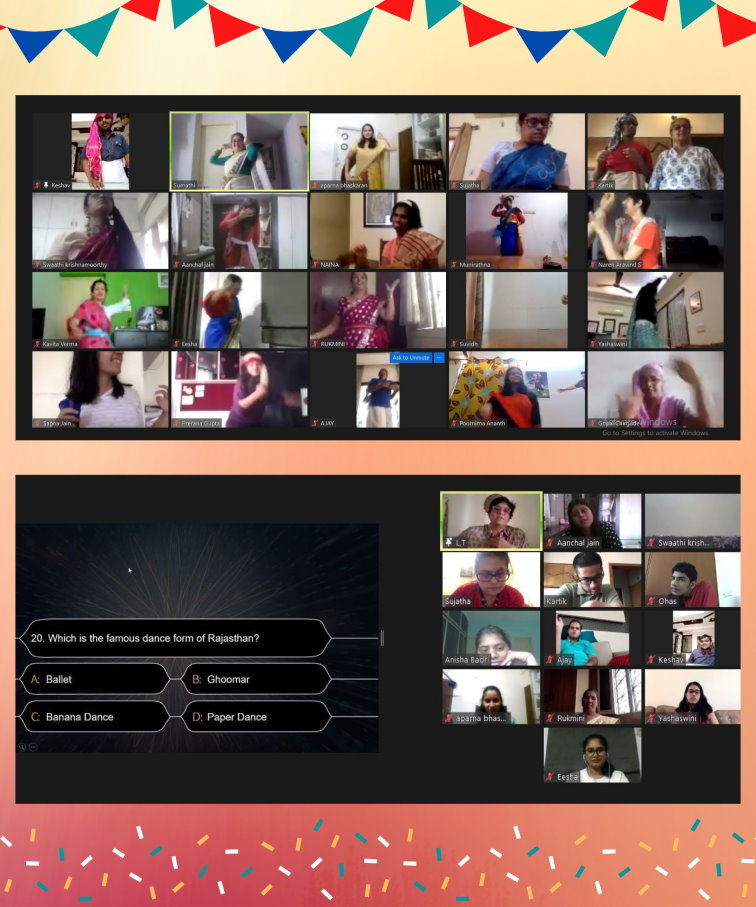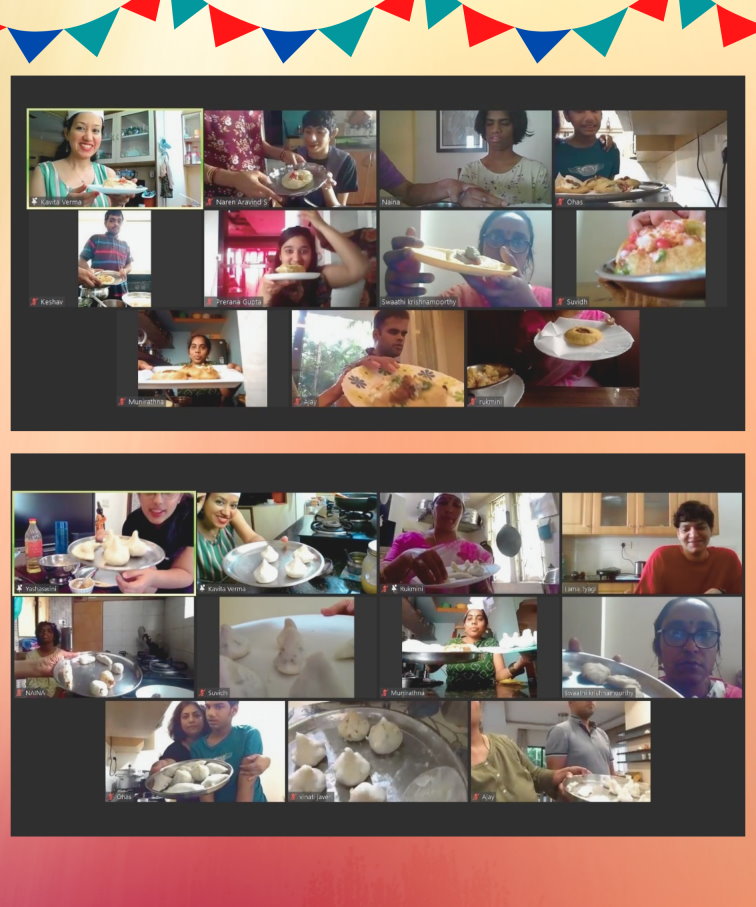 Four days of Utsav flew by so fast but that's what happens when we're having fun, right? It created the perfect closure to our summer school and will be remembered fondly for years to come. It goes without saying that the children stole the show and none of this would've been as great, or even possible, if not for the constant joy they radiate by their mere presence. We are so grateful for everyone who has come, participated, and supported us in our endeavours to carry this out and we hope to see you all at the next one!"