As we close the year with celebrations and festivities, we take a look at how the last term of 2021 has seen a flurry of activities that come with their own share of challenges. Yet we draw the curtains on a term that also saw many new initiatives and mighty triumphs over obstacles.
Our Direct Care children have continued to be the soul of the Nelamangala campus, creating the buzz and the energy that inspires us all. This term, they internalised various concepts pertaining to the theme: Social Sciences. Spanning the length and breadth of time and space, our children navigated through the history, geography, economics and culture of Rajasthan and Orissa.
Imagining what the life of Rajput kings would've been, to swirling to ghoomar rhythms and other dance forms, our children went on a trip to an Eastern state and a Western one to understand how in its diversity lies India's greatest strength. They were introduced to poets like Banamali Dasa, while also trying their hands on sculpture making, tie-and-dye and embroidery in the process. Their stunning efforts at Rajasthani Lippan Kaam work is a sight to behold as they worked with POP and mirrors on wood to create beautiful artwork. Rising to the challenge of working on an unfamiliar cultural craft tradition, the children deeply benefited from the sustained nature of the work too.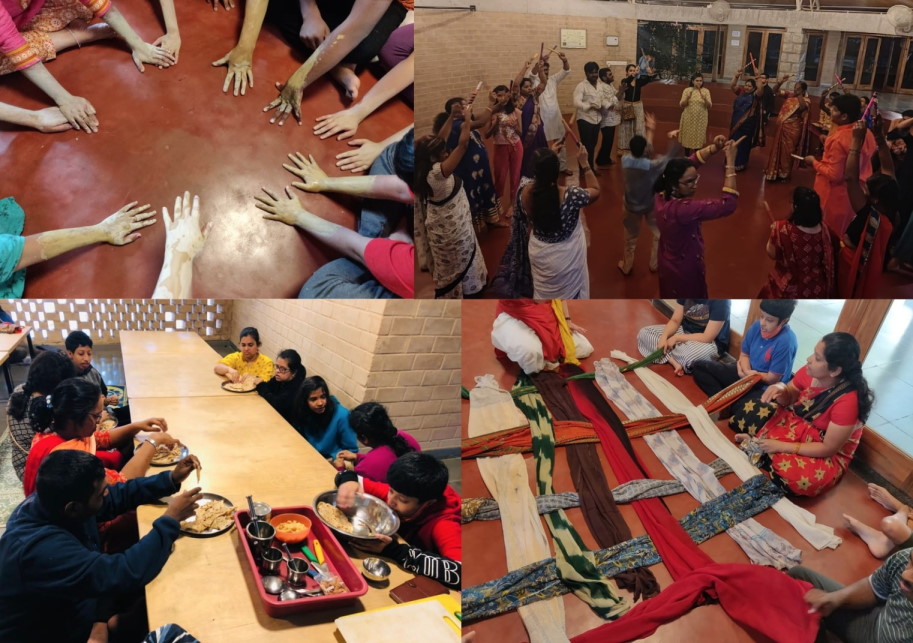 Among the many mutually beneficial experiences this term has also been our newly-launched series: Artists in Residence. Feted singer Bindhumalini Narayanaswamy and acclaimed Odissi dancer Dr Prachi Jariwala along with our children got to experience community living and the artistic process together. Not only did they get to bask in the magic that the artists created they also got to engage with everything that brings an artist alive on stage: the jewellery, the costumes, the instruments, and the performance pieces themselves. The artists, in turn, got a new and unique perspective on how their audiences process their work, engage with it, and respond both verbally and non-verbally.
Also visiting our campus this year were children and young adults with diverse needs as part of our Sangam programme. Restarting the programme meant giving our children a chance to participate and collaborate with people outside of their daily interactions and build and friendships with like-minded children. A record number of children visited our Nelamangala campus, participating in team activities and understanding how arts-based learning and an abundance of greenery can help us all flourish.
This term we also had the parent community of our Direct Care children gathering on campus to immerse themselves in the arts and understand first-hand how the therapeutic learning process is for their children. They rejoiced in the progress their children were making and celebrated with balloon compositions, reveling in how strong and sustaining this community is.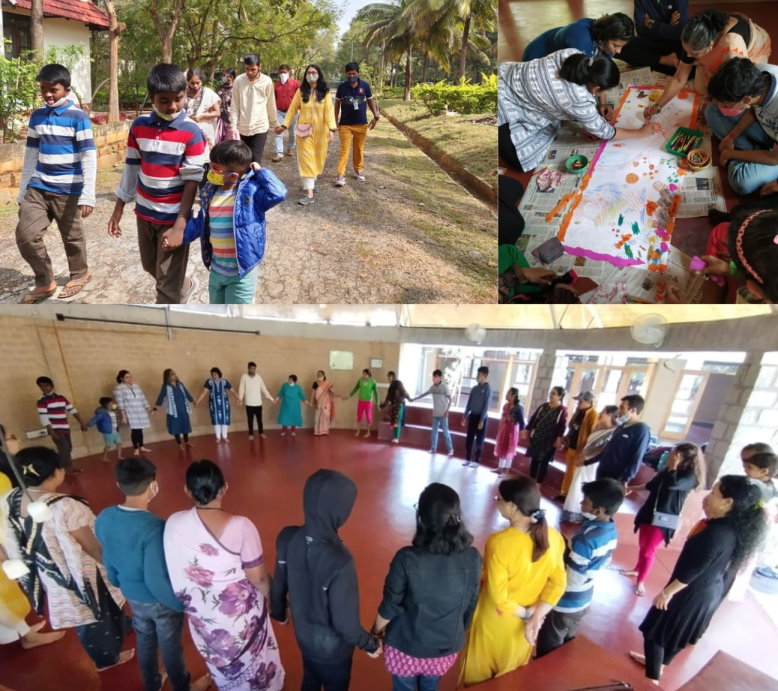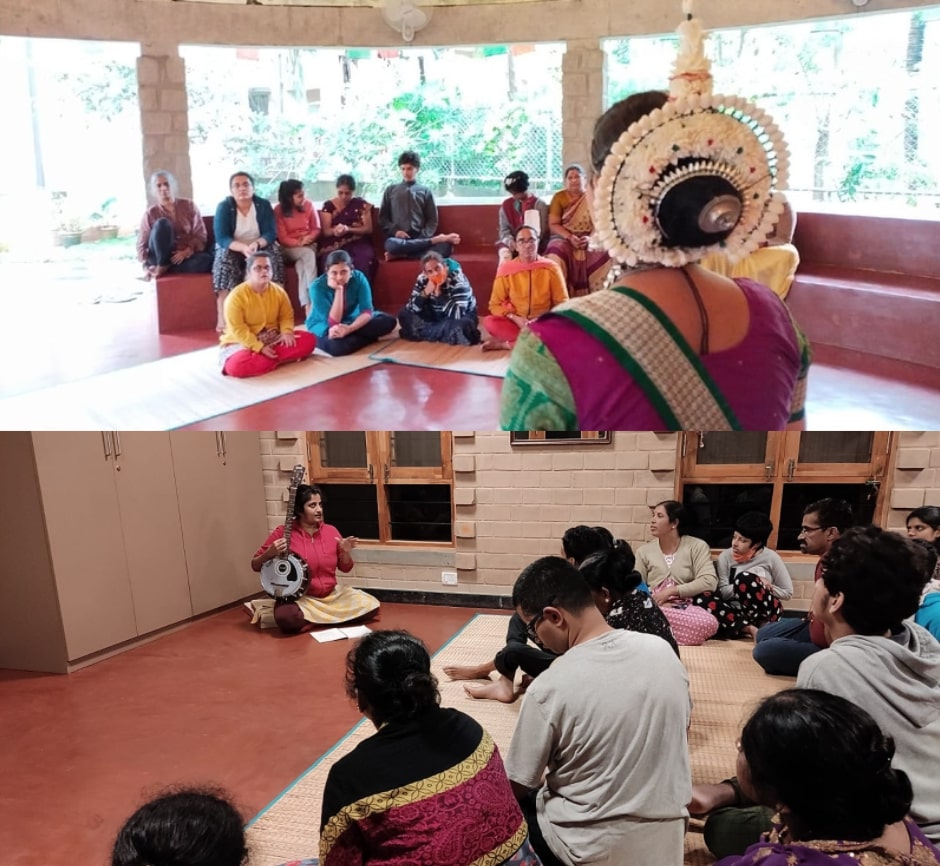 When they weren't on campus, our children were delighted to step out and interact with peers and elders in various social settings. As part of the government school project with the Nammoora Sarakari Hiriya Praathamika Paatashaale school in Nelamangala, we took our children to have them be a part of a classroom environment and to create a truly inclusive space. The children of NSHPP showed initial tentativeness but over time and earnest interactions, they displayed remarkable acceptance and sensitivity, vindicating our belief that we can inculcate a sense of inclusion early on and at the most grassroot of levels.
Our children also started visiting the Sri Sadguru Sai Old Age Home, where their heart-warming interactions and bonding with senior citizens won them friends for life. It has always been important to us at Snehadhara that a space be created that was accepting and loving towards these two populations. From doing the dandiya raas to celebrating Kannada Rajyotsava together, our young and the old created a bond beyond generations.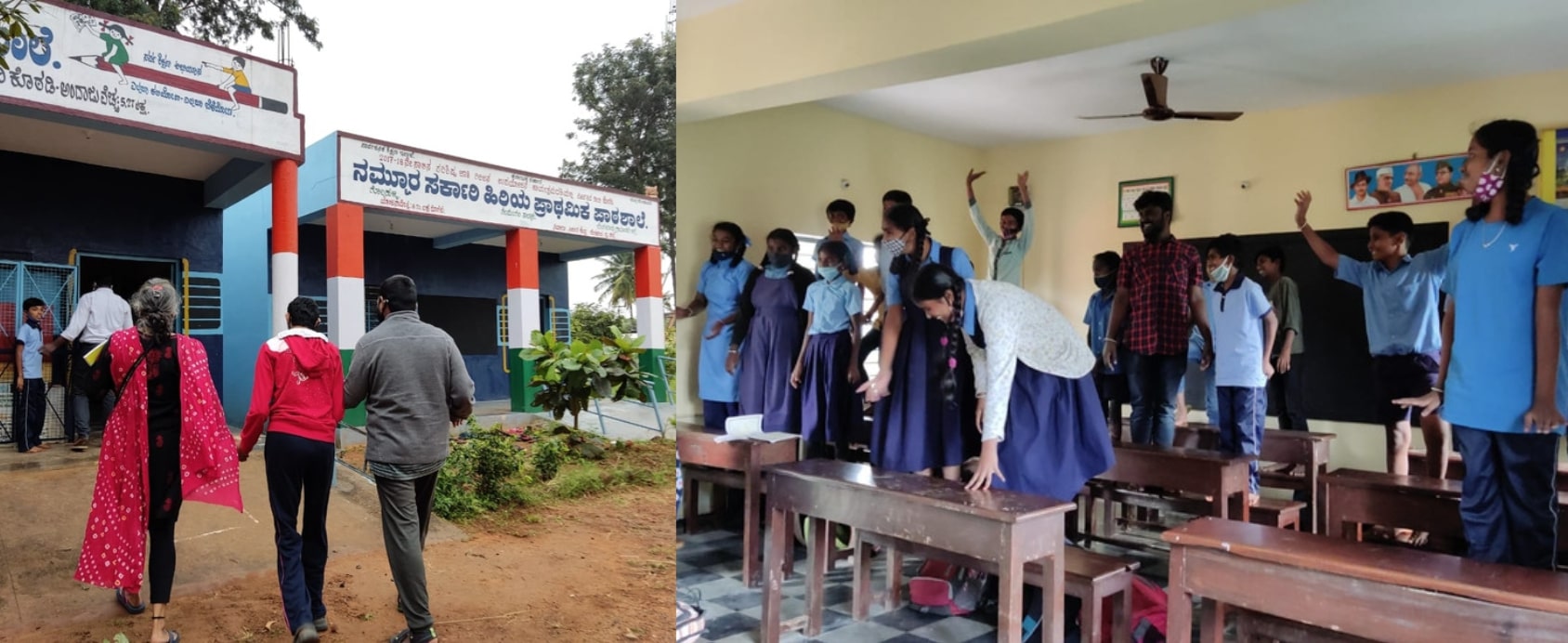 Forging relationships and creating bonds was a big part of our online success stories as well. The webinar organised for our Arts Practices for Inclusion one-year certificate programme in India received a tremendous response as people from different parts of the country participated in it. It showcased the essence of our API course but it also became a big talking point about inclusion and how the arts can be effectively used as the ultimate social leveller.
Our digital school for children with special needs, école இllam also completed another term with children from around the country who dabbled with social sciences, literature, culture and folk traditions. It reached different parts of the country, from Umang Special Care Centre in Alwar (Rajasthan) to the Sanjay camp community in Delhi, and all the way to Nepal!
Under our Maitri and Vigyaana Vihaara engagements, we continued to have online sessions and interactions with various peer groups, who intently experienced and celebrated an "elemental adventure" of earth, wind, water and fire through the arts, gardening and cooking and experienced the science of everyday life!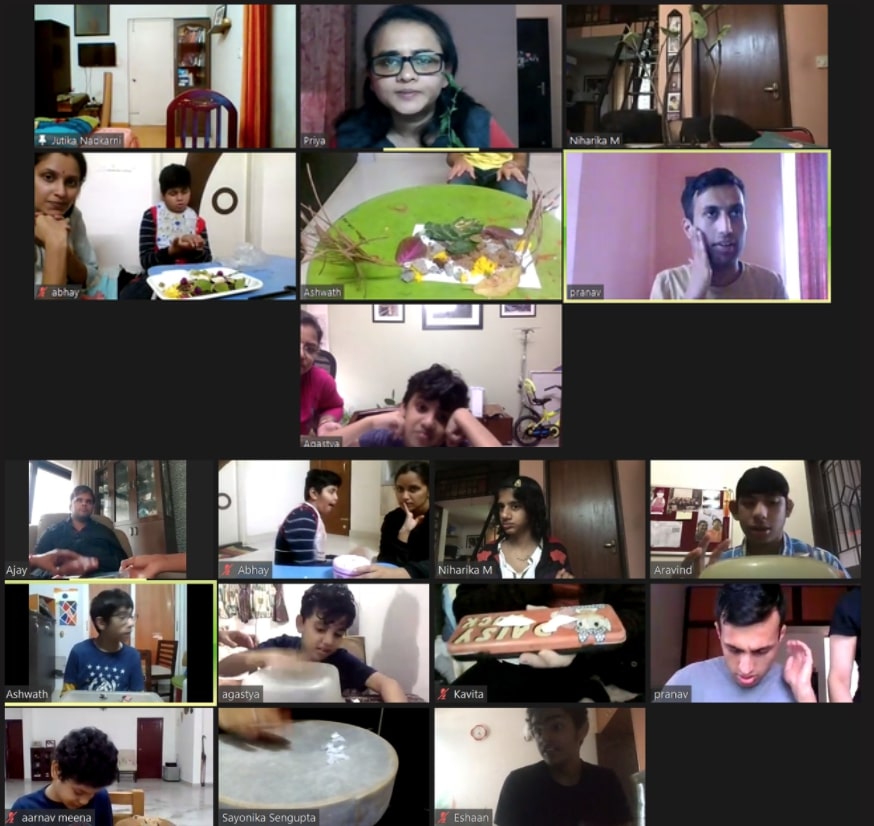 In terms of celebration, the last quarter of the year is one long party! We left no stone unturned to amp up the festivities and soak in the fun through Dussehra, Diwali, Children's Day and Christmas. We also celebrated our 9th birthday with zest and zeal! Working towards a festival reiterates a deep sense of community against the background of fun; so our children cheerfully participated in decorating the campus, helping in the kitchen with making goodies, working on their dance moves and dressing up for the occasion. Be it doing the garba during Dussehra, reminiscing over older campus celebrations during Diwali or singing carols during Christmas, we have done it all!
We started the term with a prayer and a song, and we've ended it the same way. With deep gratitude for the opportunities and the accomplishments in our hearts, and utmost hope and endless dreams for the new year to come!