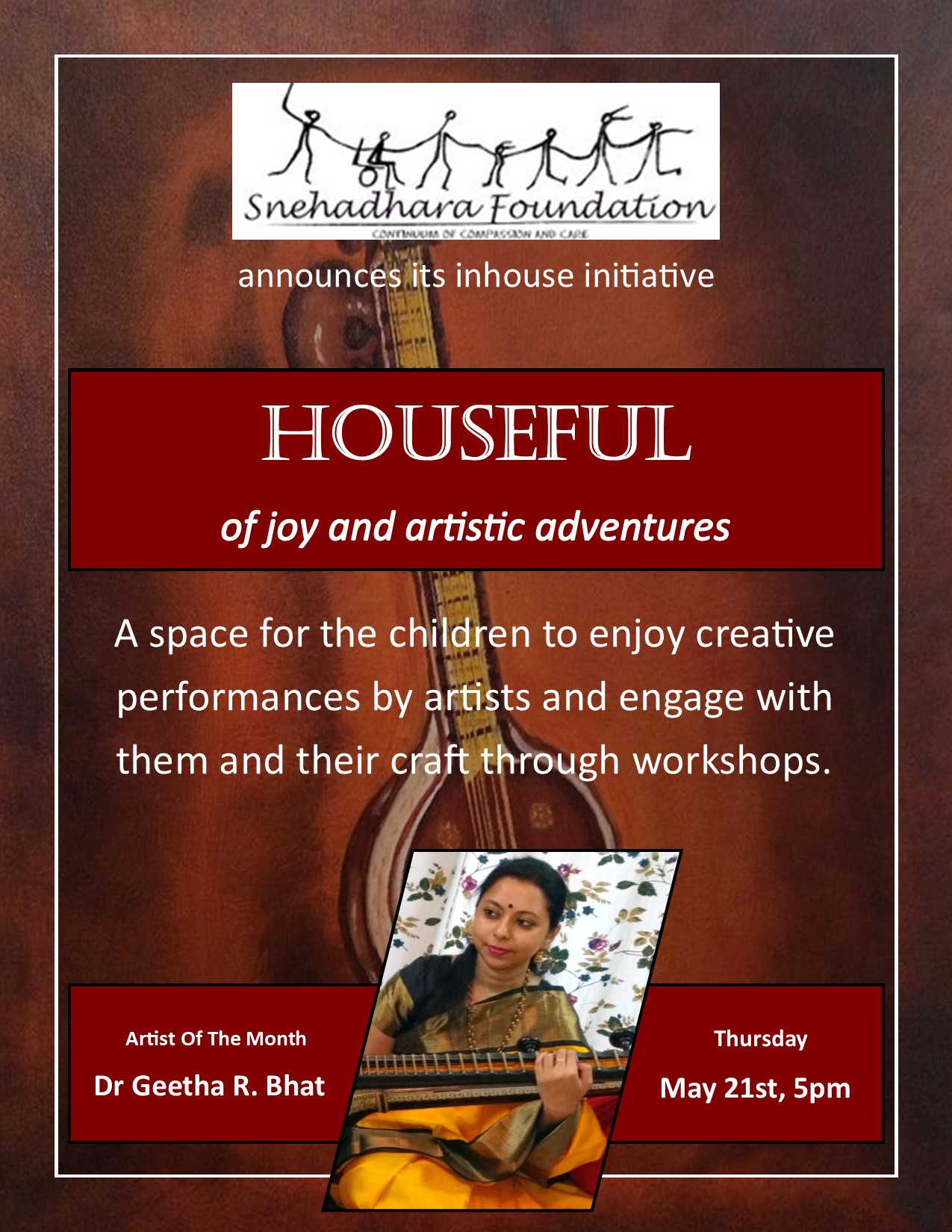 Houseful – Dr Geetha R. Bhat on the Veena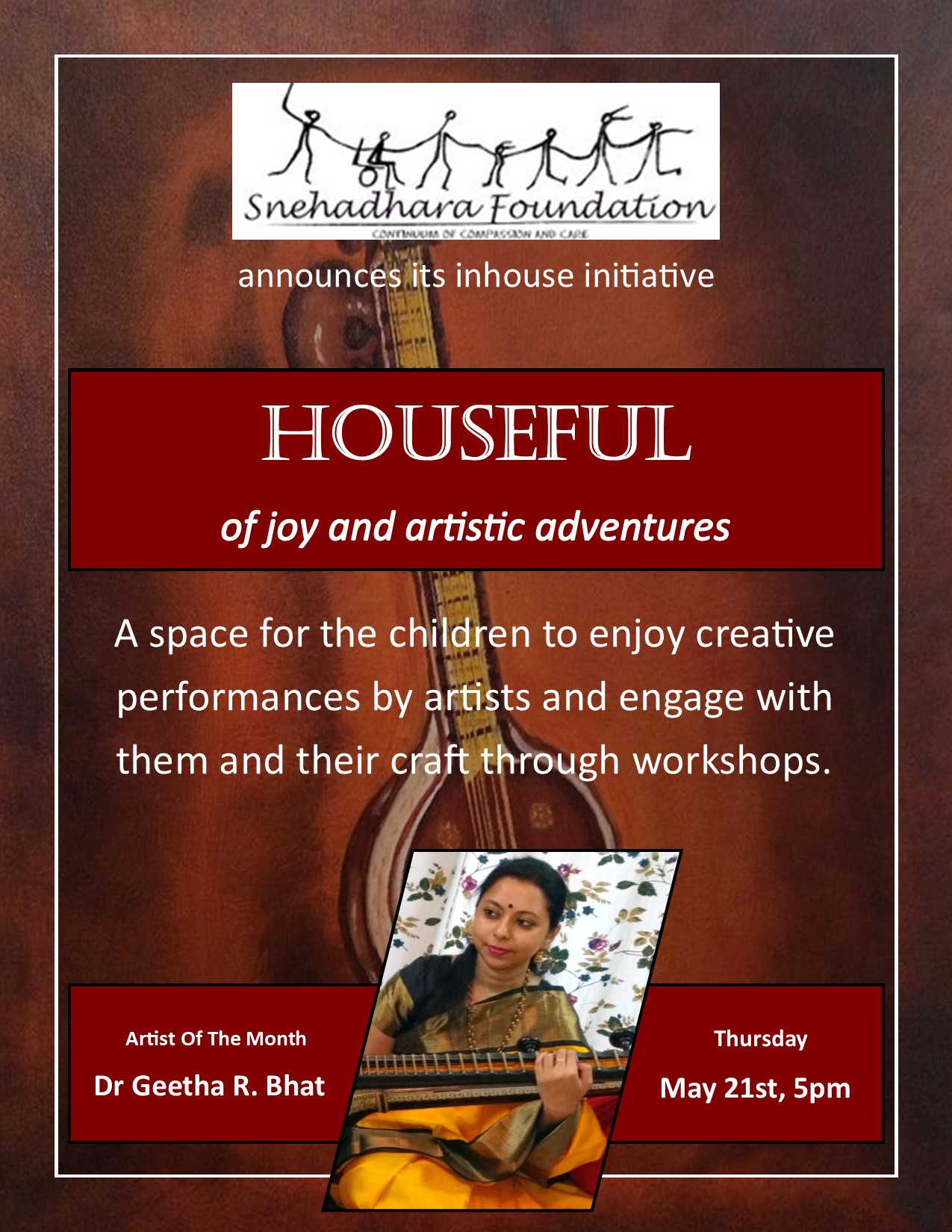 Dr Geetha R. Bhat, a versatile personality is a Child & Adolescent Psychologist, Vainika (Veena and Vocal Artiste) and a Music therapist. Geetha was initiated into the field of Carnatic music at the tender age of five and took forth to pursue her musical skills through the divine instrument "The Veena". She is the blessed disciple of Guru Smt. B. Gnanambal, Guru Shri R. K. Srinivasamurthy,Guru Smt. E. P. Alamelu and Guru Shri R.R Keshavamurthy. She has been enthralling audiences right from her first and full -fledged performance in 1994 and her panorama of research and achievements in the field of "Neuro Musicology" further emphasizes her intense devotion and dedication to this extensive and rich heritage of the Classical music art form. In addition to having Masters in Computer Science and Masters in Child Psychology, she was awarded her doctorate for her exclusive research conducted on the effects and benefits of sound, classical music and rhythm on the brain in her study "Neuro-Musicology and the Therapeutic powers of sound and classical music", awarded to her at the age of 29.
With close to three plus decades of dedicated practice of the veena, Geetha's passion to perform concerts at prestigious platforms and noble initiatives is no less. She is the blessed recipient of the title and award "Lalitha Kala Suma" in Sept 2018 awarded to her by Sri Rama Lalitha kala Mandira and NadaJyothi Puraskar in Feb 2020 by NadaJyothi Sabha apart from various other honors and felicitations from eminent stalwarts like Senior Critic and musicologist Prof. Mysore V. Subramanya, philanthropist and the hereditary administrator/Dharmadhikari of the Dharmasthala Temple, Dr. D. Veerendra Heggade, Padmavibhushan Smt. Sudha Raghunath, Padmashri Smt. Arundathi Nag, flautist, Sri. B. Shankar Rao. She is also the blessed recipient of "Women's Achievers Award" by Global Workforce management Forum (GWFM) and JGI (jain Group of Institutions.
Hamsakutira Foundation, a brainchild of Geetha commenced in 2003, a Centre for Music Education, Psychology and Research, and imparts Carnatic music intelligence to normal and special learners. It is an Institution set up solely with the noble aim of awareness and promotion of fine arts in the society especially amongst the youth, to understand, appreciate and carry forth the purity of Indian music to the forthcoming generations and to exemplify the strong significance and benefits through the therapeutic powers of classical music. She is the sole initiator of "BrAhmi" a Go-Green-vocational initiative from Hamsakutira Foundation towards the aim of promoting empowerment and to create real life opportunities for people with special needs and across multiple disorders and thus ensure inclusiveness and equality. She is currently on the advisory board of "World Yoga Organisation".
Every child requires an equal opportunity to learn with his/her capabilities across myriad and rich fields where they can discover and explore. I have never believed in a teacher who patronizes just gifted children. I rather push and stimulate the divine others towards their unusual efforts. – says Dr.Bhat