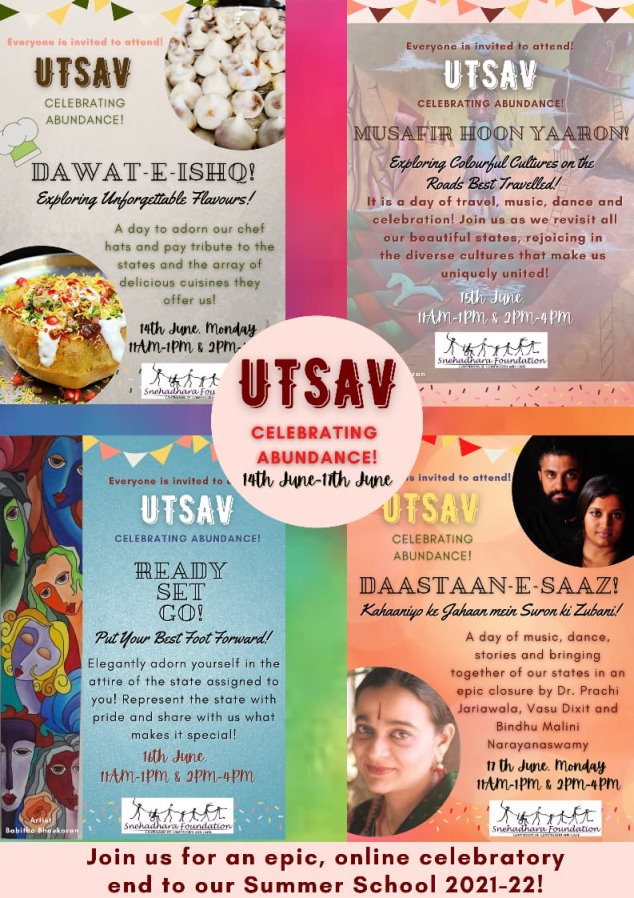 Utsav: Celebrating Abundance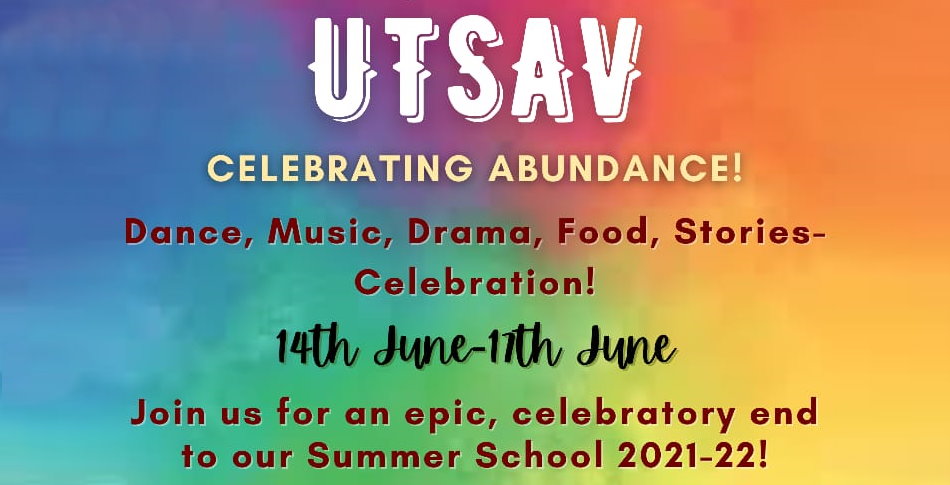 Over the past couple of months, we've been conducting our Summer School 'Hum Saath Saath Hain', and in that very fashion, the children, the team, and by extention, all of our well wishers and dear ones through social media, have travelled together virtually across states. We have visited and soaked up the culture of our different states; drawing on similarities and appreciating differences we have observed between the lifestyles and traditions to which each one adheres.
Given that these past few months have also been particularly unsettling for us all, with lock downs being imposed and extended; feelings of loneliness and uncertainty creeping in; losing or hearing of loss of loved ones, it has all been quite overwhelming to say the least.
What we found is that, the sense of togetherness, which we need most at the moment, has consistently been brought out during our interactions with the children who carry on spreading their joy, affection, and cheer no matter what the situation is.
That spirit of finding happiness in the small moments shared together is what we would like to commemorate and rejoice in as we wrap up the Summer School with 'Utsav: Celebrating Abundance'.
Happening between 14th-17th June , our Utsav is a 4-day festive exploration of the multifaceted Indian culture that we are proud to call our own. As it's a celebration of togetherness, we want to invite each and everyone to join in and be a part of our Utsav which will have us feasting, singing, dancing, cosplaying, and merry making- all from the safety of our respective homes.
— Scroll down for more details —
Hourly Schedule
14th June
11am

-

4pm

Dawat-E-Ishq

<img src="https://snehadharafoundation.org/wp-content/uploads/2021/06/WhatsApp-Image-2021-06-09-at-10.16.58.jpeg" alt="">
15th June
11am

-

4pm

Musafir Hoon Yaaron

<img src="https://snehadharafoundation.org/wp-content/uploads/2021/06/WhatsApp-Image-2021-06-09-at-10.16.58-1.jpeg" alt="">
16th June
11am

-

4pm

Ready Set Go!

<img src="https://snehadharafoundation.org/wp-content/uploads/2021/06/WhatsApp-Image-2021-06-09-at-10.16.59-1.jpeg" alt="">
17th June
11am

-

4pm

Daastaan-E-Saaz

<img src="https://snehadharafoundation.org/wp-content/uploads/2021/06/WhatsApp-Image-2021-06-09-at-10.16.57.jpeg" alt="">